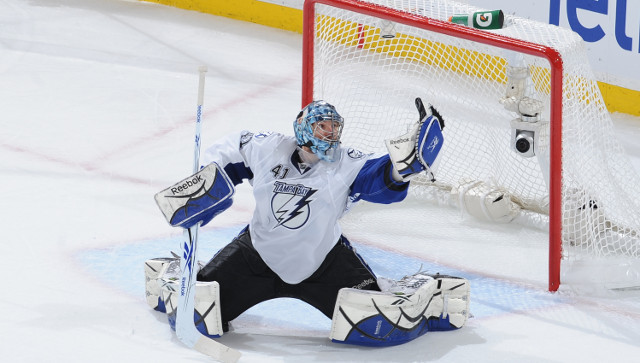 BOSTON ---
Mike Smith
--- spectacular in relief during the Eastern Conference finals – was only solid in his first career playoff start for the Tampa Bay
Lightning
, not that their coach second-guessed his decision to bench veteran
Dwayne Roloson
in Game 5 of the Eastern Conference finals.
"It's a decision I don't regret at all," Guy Boucher said after the Boston
Bruins
' 3-1 victory at TD Garden on Monday night. "I've done it in the past and it worked. I've had it done against me and it worked. . . . It wasn't something emotional at all. It was something thought of methodically and it was unanimous as a staff, that we wanted to give a breather to Roli and give a chance to Smitty to participate in something he's been a part of."
Since Boucher didn't give a clear answer even to Smith until lunchtime on Monday, it's not clear what the Lightning will do in Game 6 as Tampa Bay faces elimination at St. Pete Times Forum on Wednesday.
"I have no expectations, right now," Smith said. "The game just ended and I am kind of taking a deep breath. It is up to the coach now. I will be ready to go."
Smith allowed two goals on 19 shots, neither routine as
Nathan Horton
and Bard Marchand scored in the second period.
"Just kind of a pass from the sidewall there to the high slot," Smith said. "Horton got a pretty good shot on me. I think I could have gotten a better push across, but it was a tough play.
Roloson started the first 15 playoff games for the Lightning, although he was yanked in two of the last three games. Smith stopped 29 shots he faced in relief.
"We all have confidence in each of our goaltenders," Lightning forward
Steven Stamkos
said. "It definitely wasn't anything that Smitty could have done for us to win it. It falls on us. We had some defensive break downs. Smitty made some big saves when he had to and kept us in it. It is a coach's decision and we are really confident with both."
-- A.J. PerezPhoto: Getty Images