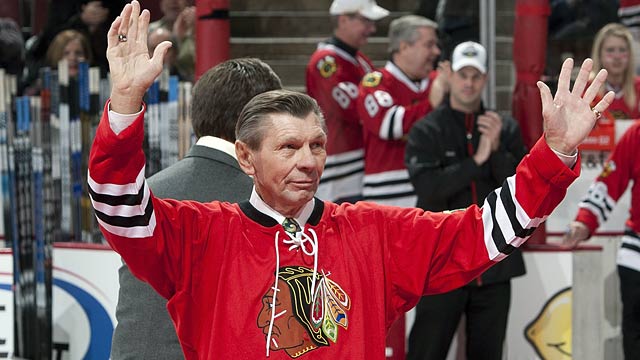 Chicago Blackhawks legend Stan Mikita has been diagnosed with oral cancer, the franchise announced Tuesday.

"Stan has been diagnosed with an early base of tongue cancer and the prognosis is excellent. He will be treated with external beam radiation therapy," Dr. Richard Borrowdale of Loyola Medical Center said in a statement released by the Blackhawks.

Mikita's cancer is at Stage I, meaning the cancer is localized and has not spread. The team said there would be no further statements released.
Mikita, 71, played 22 seasons in the NHL, all with the Blackhawks. He wsa inducted into the Hockey Hall of Fame in 1983. He won the Stanley Cup in 1961 and the Hart Trophy as the league's MVP in 1967 and 1968 with Chicago. Mikita is also the first player in NHL history to win the Art Ross, Hart and Lady Byng trophies in the same season in 1966-67.

The nine-time All-Star had his No. 21 retired by the team in 1980.

Mikita also reached some pop culture fame when a fictional restaurant, "Stan Mikita's Donuts," was featured in the film "Wayne's World."
-- A.J. Perez

Photo: Getty Images

The Associated Press contrinuted to this report.