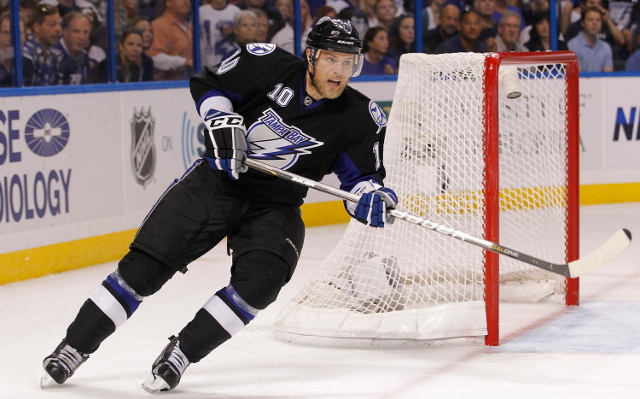 BOSTON --- Tampa Bay
Lightning
forward
Sean Bergenheim
took part in warm-ups, but was a last-minute scratch for Game 7.
"We'll see," Bergenheim told CBSSports.com when asked after the morning skate if he'd be an option for the Lightning.
Lightning coach Guy Boucher said that "there's been some improvement" in Bergenheim's undisclosed injury.
"So to what extent, we'll have to wait and see," Boucher said.
Bergenheim --- who scored the lone goal as Tampa advanced with a Game 7 victory over the Pittsburgh
Penguins
in the first round --- was forced out early in Game 5 of the Eastern Conference finals and missed Game 6. This morning, he moved around much more easily than he did before Game 6, when he skated briefly on his own. He was also one of the last players off the ice for warm-ups.
"He's scored a lot of big goals," Lightning forward
Steven Stamkos
said. "It was tough without him last game, but we once again proved that even without a great player that we can step up. We've done it all year. Other guys rise to the occasion."
Dana Tyrell
played in place of Bergenheim in Game 6, a game the Bolts won, 5-4.
While the Lightning have not said what Bergenheim injured, it's thought to a groin or some sort of leg injury.
Bruins
defenseman
Andrew Ference
, who spoke to reporters a couple hours before Game 7, said the Bruins were prepared regardless of Bergenheim's status.
"He's a very good player, without a doubt," Bruins defenseman Andrew Ference said. "I think he's left no doubt about that throughout these playoffs. But I think any team that gets to this point has fairly good depth and also, like they've shown firepower that doesn't just kind of rely on one guy. I'm sure they've moved on and accept that fact that if he's in he's a great threat for them, if not they miss him but no big deal.:"
-- A.J. PerezPhoto: Getty Images