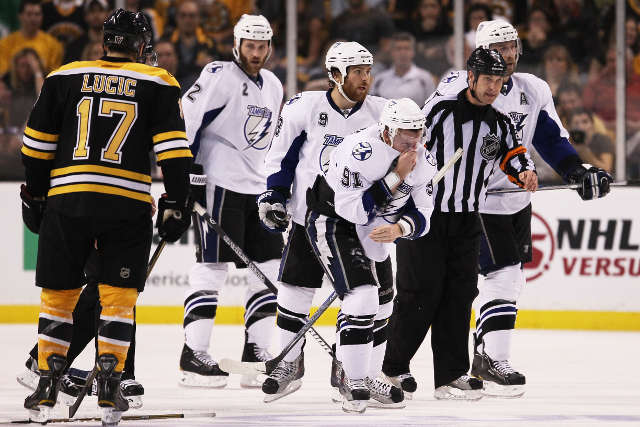 BOSTON --- As blood seeped from the gash along the bridge of his nose, Tampa Bay
Lightning
forward
Steven Stamkos
was still a gamer even after the contest ended.
"I have broken my nose before," said Stamkos, one of the first player to talk to reporters. "It was just a weird play. The guy cut in front of me right before and I didn't see the puck coming. It just hit me square on."
Stamkos lay on the ice only briefly after he absorbed the slap shot off the stick of Boston
Bruins
defenseman
Johnny Boychuk
in the second period. He hopped up as blood poured from his nose, he slammed his helmet onto the ice in anger and he went to the dressing room.
"Who knows?" Stamkos said when asked what the trainers did to stem the bleeding. "I just wanted to get back as fast as I could. This obivoulsy was the biggest game of my life."
He only missed only about five minutes of game time as he got patched up and the equipment manager attached a cage to his helment.
"That is what it is all about," Lightning forward
Ryan Malone
said. "We mentioned it before the game. The team wanted to pay a price. It is stick on puck and you take one in the face and that could be the difference. Stammer is a warrior. He got his first taste of the playoffs this year, obviously, but for him to come back in and play solid and generate offense of that, it shows the person he is."
In fact, it sounded like the loss was much more crushing than what Boychuk unintentionally inflicted.
"It was a little breakdown in our system," said Stamkos, who was on the ice when
Nathan Horton
scored the game's lone goal. "It is tough. It is over with now and it was a good effort."
-- A.J. Perez Photo: Getty Images