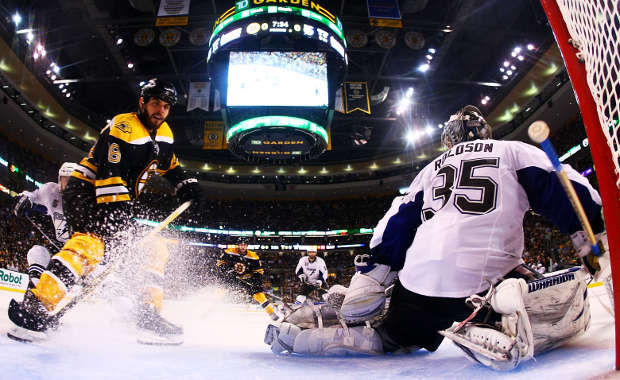 BOSTON --- Tampa Bay
Lightning
forward
Martin St. Louis
didn't provide any goals during Game 7, but he offered up something else to goalie
Dwayne Roloson
afterward.
A hug.
The silent gesture after a 1-0 loss to the Boston
Bruins
said plenty about how much his effort was appreciated.
"I thought he played tremendous," St. Louis said. "He gave us a chance. We just couldn't get one."
Roloson made 37 saves, the lone goal coming with eight minutes left in regulation by Boston Bruins forward
Nathan Horton
. As stellar of a game that it was, Roloson thought about that one he couldn't get a glove, pad, stick or blocker on in the decisive game of the Eastern Conference finals at TD Garden on Friday night.
"It's playoff hockey" Roloson said. "There is always the one play. That's the way it is. They had some chances and we had some chances. Unfortunately, they were able to capitalize on one and we weren't able to."
Roloson's elimination streak ended at seven wins in a row, matching only one other goalie in NHL history (Chico Resch). That run, however, didn't conclude due to a lack of effort as Roloson was tested from the opening minutes of the game -- including on a
Milan Lucic
breakaway.
"I just tried to stay with him," Roloson said. "I was able to stay with him, get a piece of it and it went to the corner."
Lightning coach Guy Boucher, who sat Roloson in Game 5 in favor of
Mike Smith
, didn't have to second-guess his decision as the Bolts were outshot for the first time in the series.
"You know, a lot of the guys have been drained from the previous series and Roli really stood the fort there," Boucher said. "He was outstanding tonight. It was a competitive game, just one goal takes you to the Stanley Cup Finals so, I don't think he could have stopped that puck. I don't think he could have done better than what he did tonight. I mean, 41-years-old, you can't do more than that."
Instead, it was 37-year-old
Tim Thomas
who was the winning goalie on Friday. He made 24 saves for his second shutout of the series.
-- A.J. Perez

Photo: Getty Images