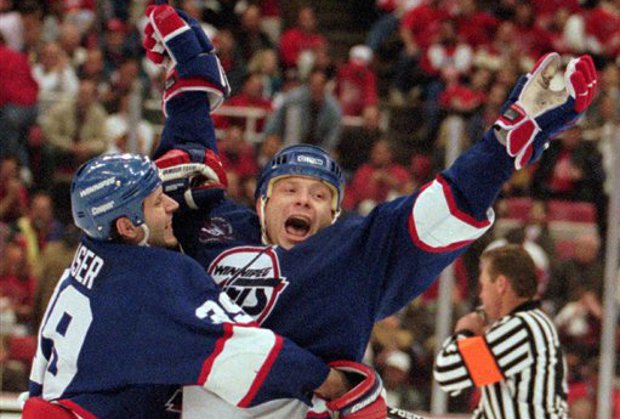 NHL hockey is back in Winnipeg.
True North Sports and Entertainment completed a purchase of the Atlanta
Thrashers
early Tuesday morning and will move the franchise to Manitoba. The transaction still needs to be approved by the NHL Board of Governors, although that could come as early as their next meeting on June 21.
"As we have said repeatedly, we don't like to move franchises," NHL commissioner Gary Bettman said in a news conference at the MTS Center on Tuesday. "But sometimes we simply have no choice."
Winnipeg lost the Jets to Phoenix in 1996. The Thrashers are the first NHL team to relocate since the Hartford Whalers moved to North Carolina in 1997. This is the second time Atlanta has lost an NHL franchise; the
Flames
moved to Calgary in 1980.
It's not clear yet what the team will be called. True North will pay $170 million to complete the transaction, which includes a $60 million relocation fee that is distributed among the other 29 franchise.
"A name has not been chosen," said True North Chairman Mark Chipman "We know that subject is of great interest to the community, but we have not fully engaged it yet. It's obviously one of the first orders of business that we will turn ourselves to now. We will do so very thoughtfully and should have some news on that in the very new future."
STUBITS: Who will move in realignment?
True North Sports president Jim Ludlow said the team aims to sell 13,000 tickets by the Board of Governors meeting in three weeks and
introduced a website to take the orders
. The base price for tickets range from $39 to $129 per game, comparable to ticket prices in Ottawa and Edmonton.
"I think it would be a good idea to tell the Board of Governors as quickly as possible that there is nothing to worry about here," Bettman said. "The economics or running a franchise, particularly in this building and this market, require the support of having the predictability that season-ticket holders will give you."
Chipman said while the 13,000-seat, season-ticket threshold hasn't been imposed by the NHL, "it's an objective we both think is necessary and achievable"
Thrashers co-owner Bruce Levenson said an agreement to sell and move the team isn't ideal, but was the only path after an ownership group willing to keep the team in Atlanta could not be found.
"Our objective was always to find a solution to keep the team in Atlanta, and we spent a considerable amount of time, effort and resources trying to do so," Levenson said in a news release. "This is not the outcome we wanted and it's extremely disappointing that a buyer or significant investor did not come forward that would enable us to keep the team in Atlanta."
Times are much different now -- not only for downtown Winnipeg, but the league --- than they were when the NHL left town.
"We were extraordinarily unhappy when we left in '96," Bettman said. "We had no choice. That's why with the celebration here there is obviously regret what's happening in Atlanta. To be able to come back to place we know loves NHL hockey (and) to be able to do it in a city that has changed, a collective-bargaining agreement that has leveled the playing surface, with this building and this ownership. These were factors that didn't exist in '96. To be able to come back and right a wrong is an extraordinary thing."
A couple Tharshers players took to Twitter to thank Atlanta Tuesday afternoon.
"Thanks again. I will miss the great people and city of Atlanta,"
wrote Thrashers left winger
Evander Kane
.
"Our time was short Atlanta but thanks to all the fans and their support,"
Thrasher right winger
Blake Wheeler
wrote.
-- A.J. Perez
Photo: Associated Press