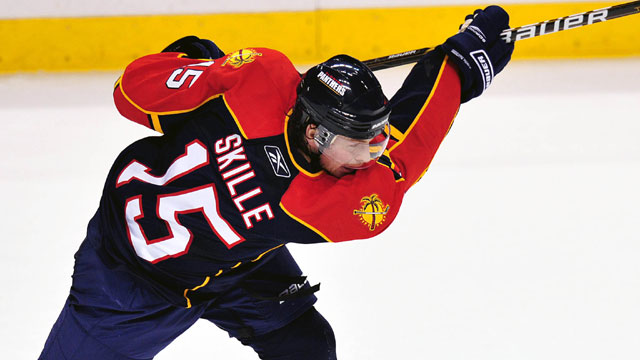 The Panthers begin what should be a very busy couple of weeks by re-signing forward Jack Skille. According to TSN's Bob McKenzie, the contract is worth $1.65 million over two years.
Skille, acquired from the Blackhawks in a trade for Michael Frolik and goalie Alexander Salak -- who also just got a deal from his new team in Chicago -- didn't do much in his limited time with the Panthers last season. He played in just 12 games, sitting 13 because of a high ankle sprain. In those 13 games, he scored just one goal and added one assist.
But Panthers GM Dale Tallon clearly still believes in Skille. It was Tallon, of course, who drafted Skille in Chicago with the seventh overall pick back in 2005. He might fit into what Tallon wants the 'Cats to become as Skille brings a physical presence and a tendency to crash the net, two things Florida has been lacking in recent years.
"We are pleased to have Jack return for the next several seasons," Tallon said Tuesday. "He is a high energy and hard working player who made the most out of his opportunity with our team, despite missing 12 games due to injury. We look forward to Jack's continued contributions to our organization both on and off the ice."
Tallon is just getting warmed up.
The only other move he's made so far this offseason was re-signing young defenseman Keaton Ellerby and, according to the Miami Herald, is working on a new deal for Mike Santorelli -- who was the surprise of the team last season with his 20 goals and 21 assists.
Tallon did, however, take care of another item on the agenda on Tuesday, making a coaching hire to be officially announced on Wednesday. Reports suggest it's
former NHLer Kevin Dineen
.
But where Tallon really made his name is in the draft, and the Panthers, much like last season, will be very active. Tallon doesn't have quite the arsenal of picks he had last year -- 13 in total -- but he plans on getting them.
"If we can achieve that and get a couple more picks this year, that would give us 24, 25 picks in a year -- that's like four drafts," he told nhl.com. "That really can set us up or the future and give us a strong foundation. That's what we're doing."
In addition to the plethora of draft picks Tallon will have, starting with third overall, he will have plenty of space under the cap to be active in free agency if he so chooses. More money might be available, too, depending how the rest of their free agents play out. The team's highest-paid player last season, Tomas Vokoun, is weeks away from becoming a free agent and the team is yet to decide if they will bring him back. Point being, Tallon will be an active part of the free-agent scene this year.
But his stated goal is to build through the draft, so while the Panthers might try and haul in some players from the market, don't hold your breath.
-- Brian Stubits
-- Photo: US Presswire