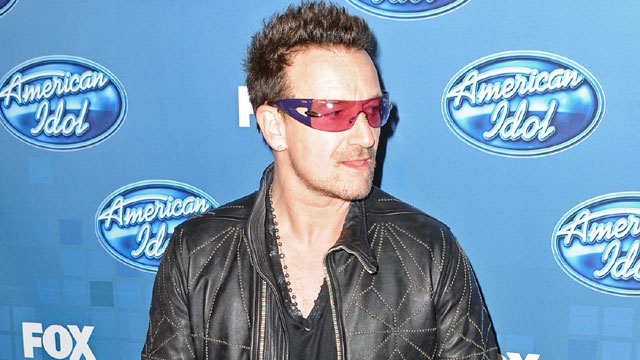 Why is a picture of Bono in the Eye on Hockey blog? We're glad you asked.
Edmonton Oilers center Gilbert Brule was in West Vancouver with his girlfriend Kelsey Nichols, with tickets to take in Game 1 of the Stanley Cup Finals between the Canucks and Bruins. Only they didn't make to the game. Instead they took a detour ... by picking up a hitchhiking Bono. As in the frontman for U2.
Nobody I know picks up hitchhikers. Heck, nobody must ever pick them up anymore because hitchhikers have all but vanished from the roads I travel on.
Yet the fact that an NHL player would pick up a hitchhiker is the most believable part of this story.
The Edmonton Journal originally had the details, including Brule's side of the story.
Brule and girlfriend Kelsey Nichols were driving to a park to walk Bella, their German shepherd, on Tuesday afternoon near the West Vancouver Yacht club when they spotted a couple of hitchhikers on the side of the road.

Brule, watching out the window, was sure one of them was Bono.

Nichols, who was driving, didn't believe him, because, really, why would Bono be hitchhiking in West Van?

"I didn't want to stop, but they waved and G yelled 'that's Bono'," Nichols said Wednesday night at Commonwealth Stadium. "I didn't believe him so I kept driving."

The couple went on, a short distance anyway, all the while Brule trying to convince Nichols to turn around. Eventually, she agreed.

The hitchhikers were still there when they drove up, so they yelled out: "Bono!"

He waved and walked over to their truck.

Turns out, he and his assistant had gone out for a walk when it started to rain, just before Brule and Nichols happened upon them.

On the drive to Horseshoe Bay, Bono and his assistant sat in the back with the couple's dog. The four chatted about Brule's hockey career, about Dublin and Bono's apparent love for Vancouver.

Bono mentioned that his band was playing a show in Edmonton on Wednesday and asked if they'd like to go.
Then there's Bono's side, where his introduction of the band before an Edmonton show took on a hockey theme to the crowd's delight and even included a shot at football.
Needless to say, they took Bono up on his offer to attend the concert, where Bono had a message to the crowd for his unexpected chauffeur. "I'm ever so grateful. I've decided that I want to be Gilbert Brule."
If I were Brule, I'm not sure what would be the coolest part of all this ... getting to meet Bono or Bono saying he wants to be me.
This is pretty much the sweetest thing I've heard off the ice in a long time. Now maybe U-2 will look a little harder at the next hitchhiker you see. (Sorry, it's just too tough to resist the urge to use awful, awful puns.)
-- Brian Stubits