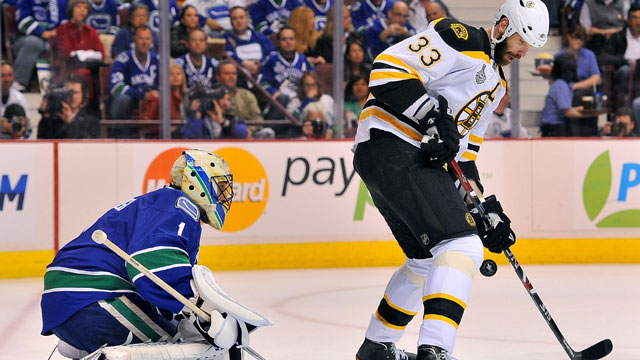 A while back, Boston coach Claude Julien decided to take a new approach to solving his team's power-play woes. The plan seemed to make sense: Take the biggest player in hockey, Zdeno Chara, and park him right in the crease. Who better to screen the goalie than the 6'9 (off skates) defenseman?
Well, it's not working. A.J. Perez documented how ineffective the Bruins' power play has been this postseason and how it wasn't any better in Game 1 of the Stanley Cup Finals, so it's time to go back to the drawing board. Not every idea is a winner.
Just listen to Canucks goalie Roberto Luongo comparing the tactic to what he faced in year's past with Dustin Byfuglien while with the Blackhawks:
"It's not the same. Obviously Zdeno is a bit bigger," Luongo said after Game 1. "On the first power play it was a bit tough to find the puck. But once they got another one, I was able to make a few adjustments, able to see the puck better.
"I think he's a big body, but at the same time we decided that it's best if we just leave him alone and let me take care of him."
Kind of defeats the point of the man advantage, now doesn't it? If Luongo is able to handle Chara on his own, then we are talking about a five-on-five situation as Luongo gets to act as a defenseman in addition to a goalie.
Now, it's certainly possible that Luongo is saying this now to try and nip it in the bud because he really is bothered by Chara. But even if he is, it still stands that it hasn't led to more success for the B's.
"When they're on the power play, yeah, they don't have that great a percentage, but they're a very good power play and they get a lot of chances," Canucks center Ryan Kesler said. "Lou had to make some pretty good saves. After the first couple power plays, we kind of figured out what they were trying to do."
What better reason than that for Boston to try something different?
Quite frankly, Chara's best attribute is his slapshot. With as devastating as it can be, he should be sitting at the point with the man advantage, not right in front of the goalie. Making deflections is not his strength. And if he's not screening the goalie to the extent of being a true hindrance, then what's the point?
"I mean, typically I like to look over the guy's shoulder," Luongo said. "In this case it's going to be impossible to do that obviously. I have to change that a little bit.
"I thought as we moved along in the game, we made some good adjustments as far as making sure that the shots come from the side and not from the middle so I can see better."
Setting up shop in the crease is a learned skill, so throwing Chara in that role hoping things will click isn't likely to happen. It has to be back to the drawing board.
"I think our power play was better tonight than it had been in a while," Bruins coach Claude Julien said after Game 1. "We spent a lot of time [in Vancouver's zone], we had some shots, had some opportunities [and] had some chances. We didn't score. Obviously, when your power play isn't doing well, people are going to criticize because you didn't score."
You could say that.
Boston needs to try and space out the offense more, hopefully creating holes in the Canucks' defense with good puck movement in an attempt to open passing lanes. If the B's want to continue to employ the strategy of putting a man in the crease, then they might want to look at somebody else on the roster. It isn't necessary to abandon the idea, just the execution.
However Julien seems to have no such designs.
"They were pretty hard on him yesterday at times. He just got back upand did his job. I anticipate he'll only get better at that position as we use him there," Julien said Thursday.
I understand the previous attack method wasn't working much better for Boston -- it was a season-long struggle with a man up -- but the Bruins were able to find some occasional success. Not in Game 1. They were 0 for 6 that included four minutes straight in the first period as well as a 5 on 3 later.
Chara had eight goals and seven assists on the power play this season. Boston would be better off putting him back at the point and moving the puck more to the center of the ice and teeing off from back there. Nobody in the game has a better slapper, so it's time to let it fly.
-- Brian Stubits
Photo: Getty Images