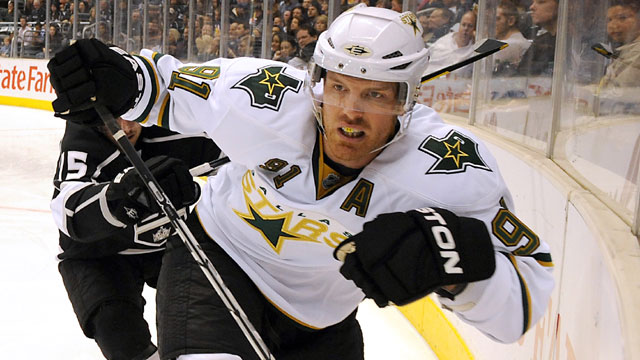 Brad Richards, perhaps the best available player on what is a down unrestricted free-agent market, will not return to Dallas next season. That much we know at this point.
Stars general manager Joe Nieuwendyk said Thursday that the team is interested in trading the negotiating rights of Richards before the open season on free agents begins on July 1. Dallas is currently in the process of changing ownership groups, and Richards -- who went through the same thing in Tampa Bay -- isn't interested in sticking it out to wait for the new owners.
"We have had talks with Brad throughout the year, and he's not going to sign with us unless we have the ownership situation resolved, and it doesn't look like that's going to happen by the start of free agency," Nieuwendyk said. "So while we could have discussions, it just doesn't make much sense right now. So we would like to see if we could get something for his rights and allow another team to have a chance to sign him, but a lot of that is up to Brad and his agent."
What's up to the agent is a full no-trade clause that Richards possesses. Naturally the Stars would like to get something in return for some team getting the exclusive rights for a few weeks. Courtesy of the Dallas Morning News:
"Accepting a move to another team creates an obligation, and you have to be pretty sure about that obligation. I think Brad has to do what's best for himself and keep his options open," Richards' agent Pat Morris said.
There were plenty of rumors around the trade deadline surrounding Richards, but obviously the Stars didn't find any to their liking. They also tried to give the centerman an extension a few months ago.
"We felt we made a very fair and honest effort to sign Brad before the trade deadline, but the ownership situation is a real sticking point, and so we have to deal with that," Nieuwendyk said.
Richards, a nine-year veteran, led Dallas this season in points with 77 that included 28 goals -- a career high -- and 49 assists.
Among the teams that will likely be interested in acquiring Richards will be the New York Rangers. If they aren't able to convince Richards to waive his control, then they will probably be waiting on July 1. The return value to Dallas wouldn't have to be much -- again, it is just looking for something -- but it's worth noting the Rangers do not have any second-round picks in this month's draft after this week's acquisition of Tim Erixon in a trade with the Flames.
His former team in Tampa could show some interest in bringing him back, too.
-- Brian Stubits
Photo: US Presswire