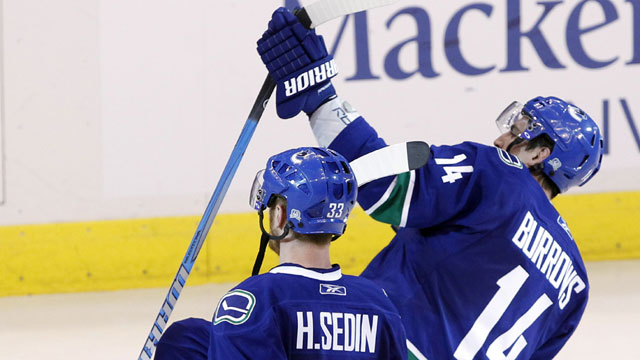 That bites.
Perhaps louder than the celebration in Vancouver of the overtime win in Game 2 was the cursing and outcry coming from Boston. That's because of Alex Burrows -- who plenty of people felt should have been suspended for his (alleged) bite of Patrice Bergeron's finger in Game 1.
Not only did Burrows net the winner just 11 seconds into overtime -- the second fasted overtime goal in Stanley Cup Finals history -- he was crucial to Vancouver's first two goals, including netting the first and assisting on the second goal. There was no doubt he was the star on Saturday night and it's safe to say the Canucks don't win Game 2 without him.
"Well, I mean, anybody that follows our team knows he's a really important part of our team. He plays five-on-five, he plays power-play, and he kills penalties," Canucks coach Alain Vigneault said. "So, you know, he's overall one of our go-to guys. Again tonight he came up big in key moments."
The decision to not suspend Burrows was questioned plenty in the off days between Game 1 and Game 2. You better believe it will be questioned even more now. Not that it matters. But good luck convincing Bruins fans of that. This will sting.
Bruins coach Claude Julien wasn't interested in talking about the controversy and how it impacted Game 2.
"If we start using that as an excuse, we're a lame team," Bruins coach Claude Julien said. "It's not even a consideration."
He might not want to second-guess the decision nor will he blame the non-punishment, which is understandable, but it has to burn him and the Bruins a little, even if they won't let it on.
We know the Canucks were aware of the controversy surrounding the Game 1 play. That's because Maxim Lapierre was taunting Bergeron in Game 2 by sticking his finger up to Bergeron's mouth.
You will remember that Colin Campbell, the man who would usually be in charge of handing out disciplinary measures in such cases, is now out as dean of discipline. This was to be his last series in the role, but because his son Gregory plays for the Bruins, he recused himself. So the decision was made by Mike Murphy, who cited the lack of evidence in not suspending Burrows for Game 2. In case you somehow missed it, here it is again. And his worst nightmare just came true. This will no doubt be his defining moment of his very short time as interim dean.
It's funny how it works this way sometimes. The worst-case scenario for NHL executives happened. Perhaps the controversy would have gone away, never to be heard from again, if Burrows had a quiet game. Not now. Instead it will remain at the forefront of the off day discussion.
Now Vancouver heads to Boston up 2-0. Just to put that into proper context, teams up 2-0 in the Stanley Cup Finals win 95 percent of the time.
In Boston they cursed Bill Buckner and Aaron F***** Boone until the Red Sox ended their massive World Series drought. Now there's a new goat for them to bite into.
-- Brian Stubits
Photo: US Presswire