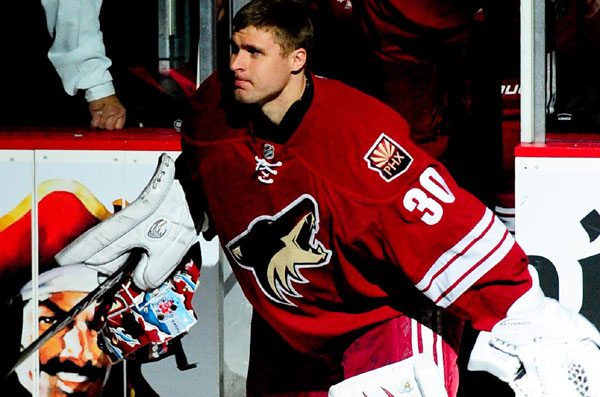 We're still a few weeks away from free agency beginning and have the draft to come first, but the rumor mill is starting to spin.
Phoenix Coyotes goaltender Ilya Bryzgalov could be on his way out of the desert -- especially after the Coyotes just re-signed Jason LaBarbera -- so the question is where will he go? His services will be highly sought after considering he's one of top goalies available.
According to a report from Russia's Sport-Express (thankfully it was translated by a Sports-Exchange reporter on Twitter), the leaders for his services are the usual suspects: Philadelphia, Tampa Bay and Washington.
The first two have some questions in net, but the
Capitals
are a little surprising. They seem to have serious promise with three youngsters in
Michal Neuvirth
,
Semyon Varlamov
and
Braden Holtby
. The other teams, though, have some issues to solve in net. The
Lightning
's two goaltenders (
Dwayne Roloson
and
Mike Smith
) are both able to hit the free market and the
Flyers
, well, they have been trying to solve their net issue for a few years. The hope is that
Sergei Bobrovsky
can be the answer, and he certainly could be, but his stumbles down the stretch raised questions.
The other big name available this offseason in goal is Tomas Vokoun, who is yet to sign an extension with the Florida Panthers. It will be interesting to see which of the two goaltenders will be the first target, setting the way for the other. Both had comparable numbers this last season (Vokoun .922 save percentage/2.55 goals against, Bryzgalov .921/2.48) and figure to have the same suitors and comparable contract offers.
-- Brian Stubits