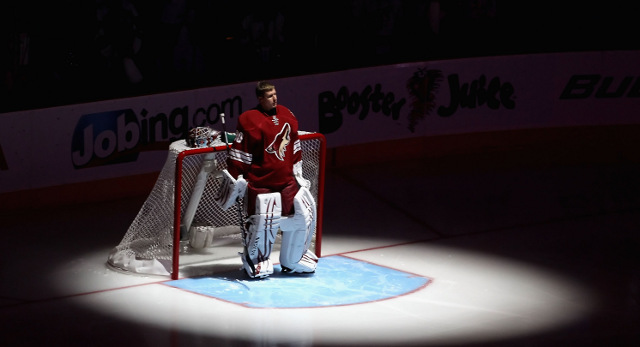 The Philadelphia
Flyers
acquired the rights to a would-be free agent goalie for the second consecutive year, although this time it's for one in his prime.
The Flyers have the exclusive rights through July 1 to sign
Ilya Bryzgalov
, acquired from the Phoenix
Coyotes
on Tuesday in exchange for forward Matt Clackson plus, third-round pick in 2012 and a conditional draft pick. Bryzgalov, a runner-up for the Vezina Trophy a season ago, went 36-20-10 this season as he recorded seven shutouts.
Bryzgalov, 30, is just the type of goalie the Flyers need to solve the Flyers' biggest hindrance to playoff success this season.
"We're going to give it our best shot," Flyers GM Paul Holmgren told CSN Philadelphia. "You give up an asset to get in early so we have every intention of trying to get a deal done."
Holmgren acquired the rights to Evgeni Nabokov from the San Jose
Sharks
before free agency last year. At the time, the Flyers were coming off a trip to the Stanley Cup Final where they leaned on journeymen goalies
Michael Leighton
and
Brian Boucher
. Nabokov, 35, and the Flyers could not come to terms and he eventually left for the KHL.
This postseason, which ended in a second-round defeat to the Boston
Bruins
, those two goalies were in the mix as was rookie
Sergei Bobrovsky
. None were impressive and the goalie carousel whirled constantly before the Bruins prevailed in four games.
As Bryzgalov's agent Rich Winter
tells CSN Philadelphia's Tim Panaccio
, it won't come cheap as Winter seeks a four-year deal:
"If you study his performance the last couple of years, the only Flyer goaltender to have a statistical performance like that was Bernie Parent," Winter said of his newest client.

"Look at the best two seasons a Flyer goaltender ever had and the only one who ever had a performance like that was Parent in back-to-back seasons when the Flyers won the Stanley Cup."
-- A.J. Perez

Photo: Getty Images