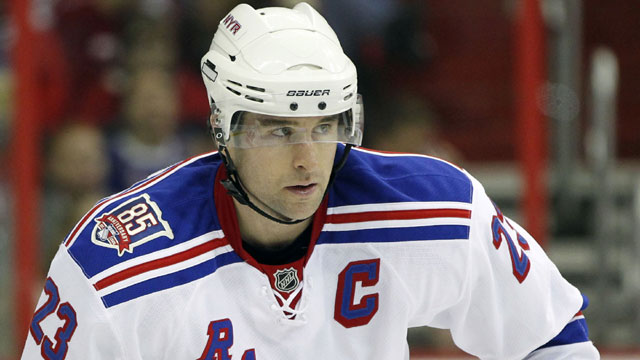 The Rangers are planning to buy out the final season of team captain Chris Drury's contract, according to a report in the New York Daily News. The source of the report was rather succinct in his/her words: "He's gone."
Beginning next Wednesday is the NHL's timeframe for contract buyouts leading up to free agency on July 1. New York owes Drury one more season on his five-year, $35.25 million deal. What shedding his contract from the books would do is save the Blueshirts $3.3 million against next season's salary cap, which is expected to go up a couple million dollars as it is, and will hit the following season's cap by $1.6 million.
The Rangers captain's production went way down last season, playing in 24 games because of injury and being held to only one goal and four assists.
New York has a few decisions to make on the restricted free-agent scene with seven guys on the roster, including up-and-comers Ryan Callahan and Brandon Dubinsky. Then attention will turn to the open market, where they are certain to chase Brad Richards.
-- Brian Stubits