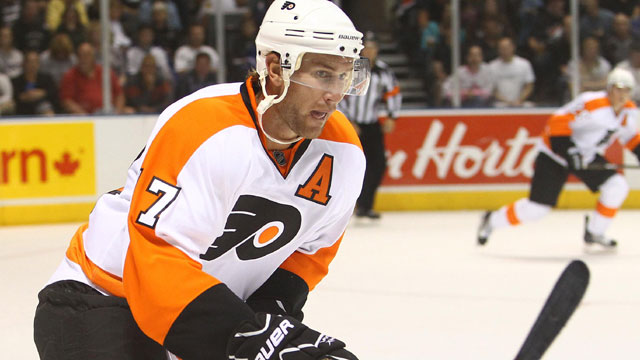 To make way for Ilya Bryzgalov and to help shore up their goaltending problems, the Flyers will have to clear space on the roster. That's a given. According to the Columbus Dispatch, the Blue Jackets could be willing to help Philly shed some salary by chasing Jeff Carter.
Multiple NHL sources have told The Dispatch that the Blue Jackets and Philadelphia Flyers have discussed a trade that would send Flyers center Jeff Carter, an All-Star in 2009, to Columbus for a top-six forward and the No. 8 overall pick in this year's draft. That top-six forward, presumably, is 21-year-old Blue Jackets winger Jake Voracek, a restricted free agent.

Though it could occur sooner, it's likely such a trade wouldn't be completed until the first round of the entry draft is held on June 24 in St. Paul, Minn.
While the Flyers are still under the cap at this point, if they are to sign Bryzgalov to a deal he's looking for -- in the $6 million-per-year range -- they will need to do some trimming. Carter becomes an obvious target. The first reason being he has an annual salary of $5.27 million. Secondly, they are tied down to Carter for a long time as his contract doesn't run out until 2020-21. Third, he doesn't have the no-trade clause that would hamper a deal. Add in the fact he has plenty of ability (see his team-leading 36 goals this season) to intrigue teams despite his massive deal, you can understand why Carter is the target to ship. While Philadelphia probably isn't keen on shipping one of its best players, it's a move they need to make and Carter is the most logical.
The deal from Columbus' end is a bit of a risk, tying your organization to one player for so long. But it's a franchise in need of a jolt. Bringing a player like Carter, who is just 26, and pairing him with Rick Nash could help attract attention to a team that has made the postseason only once in 10 seasons. The nature of the game forces the hands of teams like Columbus to have to go for the bold move to make it. Sometimes it pans out, sometimes it doesn't. Adding a consistent 30-plus goal scorer in his prime, the chances of it panning out are pretty good.
Carter, while he has been outstanding in Philadelphia, has been a bit maligned by the team's faithful for his lackluster postseason showings. In the playoffs he has 21 points in 47 career games and a minus-14.
It has also been suggested by USA Today's Kevin Allen that Florida could be a place for the Flyers to look to shed salary. The Panthers are well below the salary floor at this point and will have to spend just to get there.
-- Brian Stubits