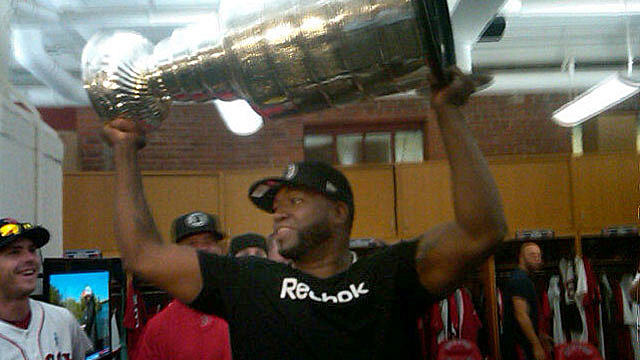 You want proof the Stanley Cup is the most revered trophy in sports? Take a look above. People everywhere, including Boston Red Sox DH David Ortiz, want to hoist the Cup high. As you can see, he and the rest of the Red Sox had the chance to do just that as the Stanley Cup began its whirlwind tour with a visit to Fenway Park.
To watch the pregame festivities, click here.
The entire Bruins team was honored on the field before the Red Sox game and a day after the raucaus rolling parade with a record crowd, the B's were again lauded and applauded by Boston faithful.
I think they tried to set a world record for biggest first pitch or something as everybody on the Bruins had a catching partner on the receiving end of a pitch. So who got to actually toe the rubber as the spotlight? The Cup itself, of course. Naturally, though, it was captain Zdeno Chara acting as the keeper for the afternoon.
This is likely the last day the Bruins are all together as the offseason begins and the Stanley Cup will make appearances all over the world with the players. We will do our best to keep up with the Cup as it's worldwide tour and stays with the players is one of the greatest traditions in sports.
-- Brian Stubits
Photo courtesy of @NHLBruins on Twitter