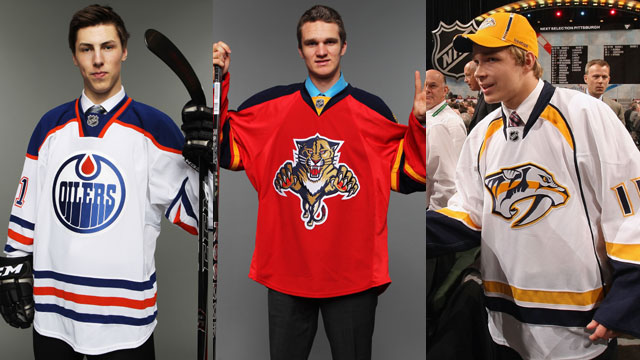 Way down the list of things to look for at the NHL Draft was a few new-look jerseys being unveiled. But it was on the list, no less.
The Oilers and Predators showed off new road unis on their draft picks this weekend, both having some minor changes. The Predators sweater reflects the recent changes to the logo, which were mostly a change in the color scheme, feature more of the gold/yellow. Edmonton's road jersey went away from the solid white with the Oiler logo in the middle and added blue and orange stripes at the bottom.
The other sweater to be shown off was Florida's return to red. The Cats have launched a new marketing campaign of "We see red" and the sweater revamping was the focal point. The Panthers have sported blue jerseys in recent years, so they decided to go back to their "glory days" in their primary color choice.
Now I'm no fashionista, but I'll play the part here anyway.
Edmonton: It's a bit of a retro look that adds some extra color to the jersey. I say the change is a solid B
Nashville: I'm not sure how much I like that gold color, but I do really like the look of the new jersey. A-
Florida: Not digging the jersey going from red to blue to yellow with no kind of spacing or piping. Looks like a McDonald's outfit circa early 90s. D
-- Brian Stubits
For more hockey news, rumors and analysis, follow @cbssportsnhl on Twitter or @BrianStubitsNHL