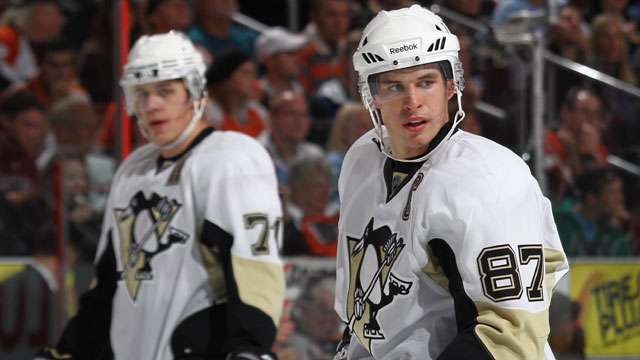 Everything seems to be on track in Pittsburgh for injured superstars Sidney Crosby and Evgeni Malkin, coach Dan Bylsma said Monday.
Speaking to the media, Bylsma noted that Crosby still has a long recovery to go but, as of now, things are going as planned.
"He's been working out two times a day and progressing along his normal road of summer activity," the coach said. "That's what Sid has been doing. He's got another two and a half months ahead of doing that."
Crosby was knocked out of the lineup in early January with a concussion after big hits in the Winter Classic against the Capitals and the next game vs. the Tampa Bay Lightning. The Penguins were very cautious with Crosby, in no hurry to try and rush him along so he could play in the playoffs against the Lightning. But Crosby has since admitted he began feeling residual effects, causing a minor setback and keeping him off the ice.
Before the injury, Crosby was having perhaps his most prolific season so far, scoring 32 goals with 34 assists in 41 games. He finished as the team's leading goal-scorer and points-earner despite playing half its schedule.
As for Malkin, his return from ACL and MCL tears has been "going extremely well," Bylsma said. If Pittsburgh had closed out Tampa Bay and advanced to the second round, it was a strong possibility Malkin would have returned.
"We have heard through Sergei Gonchar, actually, that he's never seen Geno working this hard and looking this good and this motivated at this time of the summer," Bylsma said. "So I expect a real motivated, a real focused guy and a guy who is ready to go for training camp -- is probably already ready to go. I think he'll be at full go coming into training camp and really motivated."
Malkin's final game was Feb. 8 against the Sabres when a hit from Tyler Myers put the big Russian on the sidelines. In 43 games last season, he had 15 goals and 22 assists.
Finally, Byslma addressed the Jaromir Jagr speculation and how the 39-year-old would fit into Pittsburgh's picture.
"I've been on record a few times with the media about what the attributes of Jaromir Jagr are still really good," Bylsma said. "I think [a reporter] used the word 'hypothetical,' and we've kind of run with that word. There are things that I think he could add to our team.
"In terms of where he fits in structurally, contract-wise, that's another issue as well. Those are all things that are part of that equation and that we've talked about and will continue to talk about over the next few days."
-- Brian Stubits
Photo: Getty Images

For more hockey news, rumors and analysis, follow @cbssportsnhl on Twitter or @BrianStubitsNHL