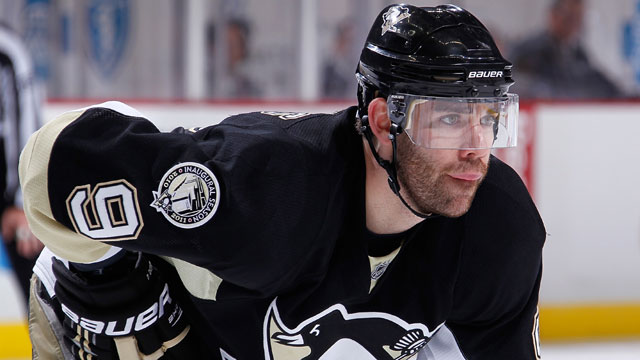 While all eyes are on Jaromir Jagr in Pittsburgh, GM Ray Shero took care of the in-house business first by re-signing Pascal Dupuis.
The deal is for two years and $3 million, meaning an annual hit of $1.5 million to the cap. The deal was officially announced this afternoon.
"[My family and I] really love Pittsburgh. It was the only place we wanted to go," Dupuis said Tuesday.
Dupuis came over to the Penguins in the deal that landed them Marian Hossa and Hal Gill, clearly the third of three players in the trade. Since then he has proved to be a very valuable player, fitting on any of the four lines Pittsburgh has and stepping into the leader's role a bit when Sidney Crosby and Evgeni Malkin went down with injuries.
Last season for the Pens, Dupuis scored 17 goals and had 20 assists in 81 games. Plus, he was one of the more memorable characters to come out of HBO's 24/7 series before the Winter Classic.
The Penguins now sit at just less than $58 million on the roster, giving them about $6.5 million to spend. They seem to be on the verge of bringing Jagr back to Pittsburgh, something that can't be done until Friday at the earliest, and also are still in talks with Tyler Kennedy, a player that they did not give a qualifying offer to.
-- Brian Stubits
For more hockey news, rumors and analysis, follow @cbssportsnhl on Twitter or @BrianStubitsNHL