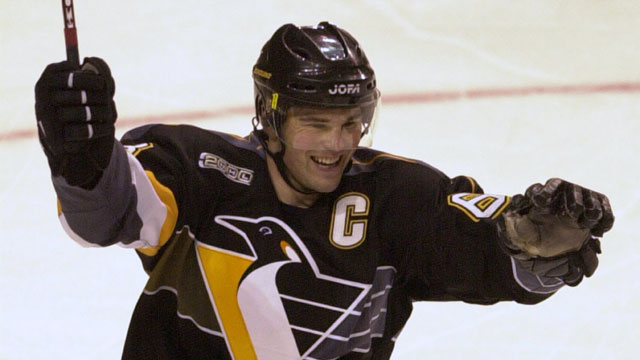 The ongoing flirtation between Jaromir Jagr and the Pittsburgh Penguins, his former fling, is getting real. Penguins GM Ray Shero told the Pittsburgh Post-Gazette that he has offered the former team captain a one-year deal and expects word from Jagr today.
"[Today] is decision day," Shero said. "We'll see what he does. ... He's got all the information he needs from us [to make up his mind]."
Since it became clear Jagr was interested in a return to the NHL, there have been two teams at the forefront with a third, unknown team supposedly also in the mix. Jagr first was in contact with the Red Wings, and GM Ken Holland showed reciprocal interest. Since then, Jagr and the Penguins have been figuring out if things would work for a return to the Steel City.
Rob Rossi of the Pittsburgh Tribune-Review is of the mind that if Jagr had his druthers, he'd come back to Pittsburgh. Same goes for Dan Bylsma, the Penguins coach who has commented a few times on how he'd like to see Jagr on his bench.
"I've been on record a few times with the media about what the attributes of Jaromir Jagr are still really good," Bylsma said. "I think [a reporter] used the word 'hypothetical,' and we've kind of run with that word. There are things that I think he could add to our team."
Rossi quoted Jagr's agent, Petr Svoboda, as saying Jagr is on his way to the States.
"He is flying to New York [from the Czech Republic] right now," Svoboda said. "He is coming this afternoon and will tell us his answer then."
Because of CBA rules, the deal cannot be made official and signed until Friday, when free agency begins.
It's hard to believe that he would fly to America just to say no. Assuming the offer is truly "fair" and "respectful" as Shero said -- the deal is worth a reported $2 million -- it looks as if you can bust out those No. 68 sweaters in Pittsburgh and start growing back those mullets.
Jagr, a Czech native, won an Olympic gold medal in 1998 and a bronze in 2006. He also won two Ice Hockey World Championships in 2005 and 2010. He has already played in 806 games in a Penguins uniform.
He has 646 career NHL goals, and if he returns to the league, his career point total would make him the active leader.
-- Brian Stubits
Photo: Getty Images
The Associated Press contributed to this report

For more hockey news, rumors and analysis, follow @cbssportsnhl on Twitter or @BrianStubitsNHL