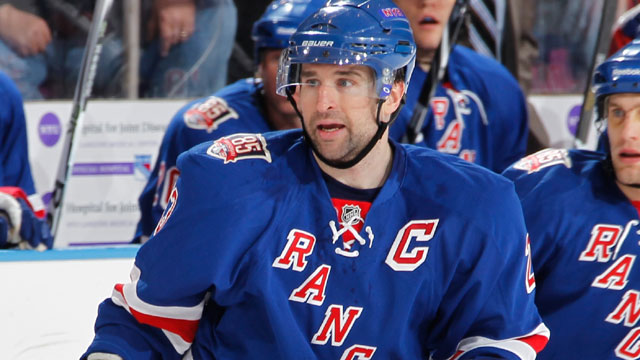 For a few weeks, it has been clear the Rangers wanted to get rid of captain Chris Drury and his big contract. The only question was if they could, considering Drury is dealing with a knee issue that could keep him out all next season and CBA rules prohibit buyouts of injured players.
But Drury has elected to go along with the Rangers' plans, neglecting to apply for a medical exception, the New York Post reports.
That means Drury will become an unrestricted free agent up for grabs on Friday. You have to wonder how much interest there will be, but a reunion with the Sabres is a possibility, Larry Brooks of the Post suggests.
The Rangers, meanwhile, will be cap-charged approximately $3.717 million for the buyout this season and $1.667 million next year, though the obligation for 2012-13 could be erased pending negotiations of a new labor agreement.

Because Drury had a no-move clause in his contract, he was able to elect not to go on unconditional waivers preceding the buyout.
The captain was gracious in bowing out, responding to the Post with a statement via email.
"It was a great honor and privilege to be a New York Ranger for the past four years, and I will always be grateful for the opportunity to fulfill that childhood dream," Drury said in a statement that was sent to the Post by email. "The Rangers are a first-class organization with great people in the hockey, public relations, team services and community relations departments.

"I would also like to thank Ranger fans. They always inspired me to do the best I could in whatever role I was asked to play. Playing before them in the Garden was a thrill of a lifetime. I wish all the fans and the entire Ranger organization the best of luck in the future."
Drury played very little for the Rangers last season, scoring just one goal with four assists in 24 games because of a broken finger and knee surgery.
-- Brian Stubits
Photo: Getty Images

For more hockey news, rumors and analysis, follow @cbssportsnhl on Twitter or @BrianStubitsNHL