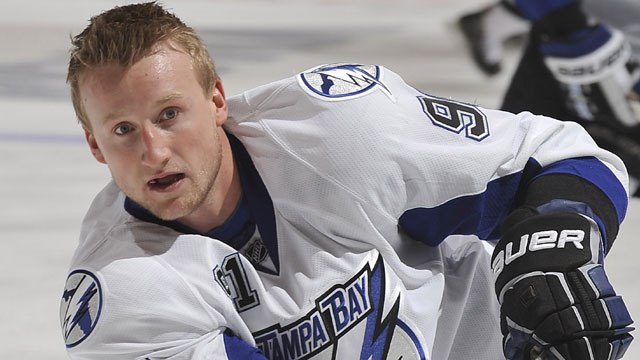 We are now in the window of time teams can send offer sheets to restricted free agents. Thus far, no such offers have been sent to the biggest RFA out there, Steven Stamkos, and the Flyers won't be the first.
Frank Seravalli of the Philadelphia Daily News confirmed the Flyers have declined to extend a sheet to the young superstar in Tampa Bay.
According to Seravalli the Flyers had been seriously contemplating sending an offer to Stamkos. He reported the deal would have been a 12-year, $115 million contract, which would have carried a $9.58 annual cap hit. The most any team could offer is $12.86 million annually, or 20 percent of the salary cap. Tampa Bay would have seven days to match the offer.
At debate for the Flyers wasn't whether they could afford Stamkos. They wouldn't be able to re-sign players like Ville Leino if they had, but that's a tradeoff they would've taken. Other residual moves, such as possibly sending Scot Hartnell and his $4.2 million contract to the AHL where it doesn't hurt the cap, would have had to be made to make everything fit.
Part of the concern was knowing whether or not Lightning GM Steve Yzerman is bluffing when he says no matter the offer, the Lightning will match it. Maybe he's telling the truth, maybe he's not. But if he is, he could -- and likely would -- take seven days to give a response to any offer a team might send. In that time Philadelphia could have seen all of its potential targets -- Leino, Michael Ryder, Erik Cole, John Madden among others -- sign elsewhere and be left hanging out to dry a bit.
The Flyers have already given the organization a very different look in the past few weeks, but adding Stamkos would be getting a nose job, tummy tuck and facelift all in one stop. Perhaps it was all just a bit too costly for Philly's britches (we didn't even mention that if they somehow did take Stamkos away, they would owe Tampa Bay four first-round draft picks).
It probably would have been all for naught as I am of the mind that Yzerman isn't bluffing when he says Tampa Bay will do whatever it takes to keep Stamkos around. You just don't let franchise players like him go that easily.
By Brian Stubits
Photo: Getty Images

For more hockey news, rumors and analysis, follow @cbssportsnhl on Twitter or @BrianStubitsNHL