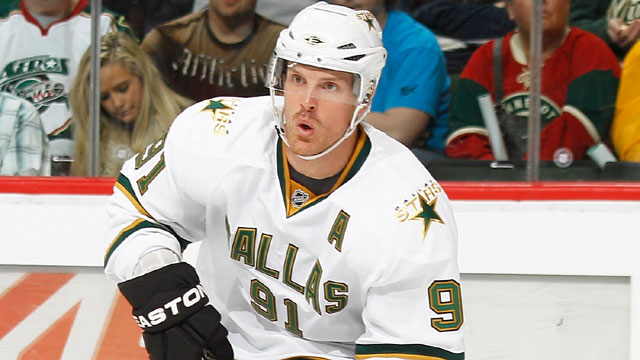 The biggest free agent is heading to the biggest market.
The front-runners all along, the New York Rangers won the race to sign former Dallas Stars center Brad Richards. Darren Dreger of TSN reports the deal is for nine years and $60 million, an average hit of $6.67 million.
"Very happy to become a New York Ranger today!!!" Richards wrote on his Twitter account. "Playing at MSG will be amazing and looking forward to working with a great young team"
Richards spent the opening day of free agency entertaining team presentations in his agent's office in Mississauga, Ontario. There he hosted the Rangers, Toronto Maple Leafs (sans Brian Burke), L.A. Kings, Tampa Bay Lightning and Calgary Flames. It was expected Richards would make his decision late Friday but instead elected to sleep on it before deciding on the Rangers.
"You can find a player like this as a free agent or find a player like this in the top five [of the draft] and it takes a long time to develop," general manager Glen Sather said. "We needed somebody like this to take us to the next step. I think it's a great opportunity for us. I know he left a lot of money on the table by accepting the offer."
And what about that concussion he suffered near the end of the season? Richards says it's nothing to worry about.
"I have been training for six weeks, way ahead of any other training schedule I have been on because I was healthy after the season," Richards said. "My body felt great, my head felt great, so I got at it pretty quick."
For months it had been assumed the Rangers would be the ultimate winner of the Richards sweepstakes. The Blueshirts needed a top-line center, had the money to spend and Richards had said he wanted to play in a big market where hockey matters. Seems to be a natural fit. But it didn't stay that easy.
The Leafs, Kings and Lightning were not surprise suitors at all. And if any other teams were to be in the mix, it was assumed it would the Sabres in Buffalo and maybe even the Flyers in Philly. Instead, the underdog came in the form of the Flames, who gave Richards a lot to think about.
Dreger reported Saturday morning that the Flames actually offered more money than the Rangers, giving an offer at the same length but for $65 million total. In the end, Richards took less money to head to New York and reunite with his former coach in Tampa, John Tortorella.
The Kings also came to the table with an aggressive offer, trying to give L.A. perhaps the best collection of centers in the NHL with Mike Richards and Anze Kopitar already on the roster. Tim Leiweke, the chief executive of Anschutz Entertainment Group, which owns the Kings, was part of a group that included general manager Dean Lombardi and several others who went to Canada to meet with Richards. Not even video messages from Wayne Gretzky and Kobe Bryant won over Richards.
"We have a lot of respect for Brad and Pat Morris and the way they handled this," Leiweke said. "We understood his desire to play out East and did the best we could to overcome that. We wish him the best. Dean [Lombardi] and his team did a great job. We are focused on other options and are certain this team is going to be very good next year."
His contract isn't as high as I anticipated it might go. Considering some of the contracts that were flying around yesterday in the free-agent frenzy, it was reasonable to assume he would see a number around the $70 million-$75 million range. Instead, the Rangers get him at an average cap hit of $6.67 million -- still a lot, but a reasonable price for a player that had 77 points in 72 games last season. The Rangers could have done worse.
Now, the Rangers still have around $15 million under the salary cap ceiling, according to capgeek.com, which should be enough room to sign restricted free agents Ryan Callahan, Brandon Dubinsky, Artem Anisimov and Brian Boyle.
Brian Stubits
Photo: Getty Images

Click here for more free-agency updates.

For more hockey news, rumors and analysis, follow @cbssportsnhl and @BrianStubitsNHL on Twitter.