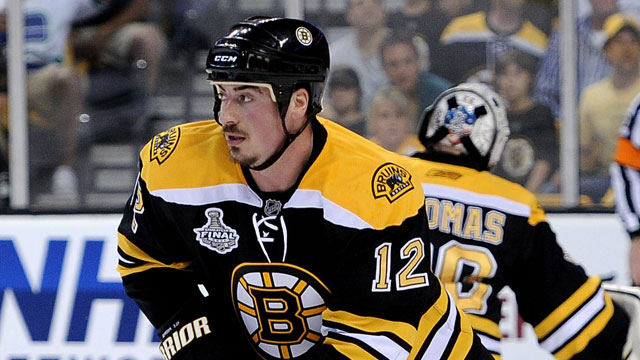 By Brian Stubits
Just yesterday we gave you a list of the best free agents still available, leading with Tomas Kaberle. That's the case no longer.
The Carolina Hurricanes -- not the Bruins, Rangers or other usual suspects -- announced Tuesday they have signed the defenseman to a three-year, $12.75 million contract. That's a cap hit of $4.25 million annually. At the same time, the team announced it has traded Joe Corvo to the Bruins in exchange for a fourth-round pick.
"Tomas is one of the top puck-moving defensemen in the NHL and power-play specialist," Hurricanes GM Jim Rutherford said. "He has had a good career and is now a Stanley Cup champion. We welcome him to Carolina and look forward to his contributions to the Hurricanes."
Kaberle is coming off a four-goal, 43-assist season with the Maple Leafs and Bruins, who showed tepid interest, but interest nonetheless, in retaining Kaberle's services. Instead, he heads to Carolina and becomes the second defenseman signed for more than $4 million annually in a week after Joni Pitkanen extended his stay with the 'Canes. So basically Kaberle strolls into Boston, wins the Stanley Cup, then bolts. Not bad if you ask me.
"We had some talks with Tomas and his agent," Bruins GM Peter Chiarelli said. "We weren't able to reach common ground [on term]. We do wish Tomas well."
Kaberle was much-maligned for his play in Boston, and he saw his ice time drop as the season and playoffs ran along. Boston's power play struggled all season, and his addition did little to fix the problem. But in Carolina he will have Pitkanen to lean on as both are good offensive players and puckmovers.
The addition of the 32-year-old Kaberle put Carolina above the league-mandated $48.3 million salary cap floor, according to capgeek.com, right up until they traded Corvo to the Bruins, putting them back under the floor.
The Bruins essentially end up trading Kaberle for Corvo to stay at six defensemen under contract and have more options in house.
For more hockey news, rumors and analysis, follow @cbssportsnhl and @BrianStubitsNHL on Twitter.