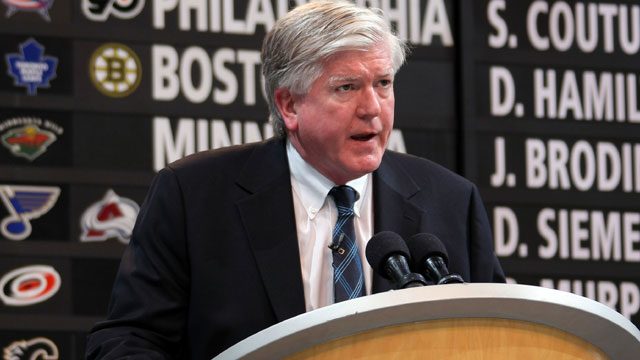 By Brian Stubits
Brian Burke is a neverending bowl of fun. The guy is seemingly always doing something to get people talking, whether it's trading two first-round draft picks for Phil Kessel to the recent saga of visiting troops in Afghanistan on Canada Day -- which was also the first day of free agency.
Well he's at it again.

Speaking for the first time about his the Maple Leafs' unsuccessful pursuit of prized free agent Brad Richards, the Toronto GM cried salary cap-circumvention foul. From the Globe and Mail:
"I'll make it clear, we made a very substantial offer to Brad Richards," Burke said, referencing what was believed to be a six-year, $42-million offer the Leafs made on July 1.

"We lost out on the Brad Richards sweepstakes for two reasons. One, we didn't offer as much money as other teams and more importantly we didn't structure the contract like other teams did.

"These deals that are front-loaded and have small amounts at the back end in my opinion are designed to circumvent the salary cap. I won't do them, I never had, I'm not going to. And that's why we were unable to sign Brad Richards.

"I wish him well. He's a good guy. But that's not a contract structure we're interested in."
Uh, Mr. Burke, contracts like Richards' are allowed by the CBA. The NHL will determind their legality, not you. So while you might not agree with them or like the rule, it's one the league -- and you -- are free to play by. Taking moral stands on free agents isn't the best way to endear yourself to a rabid fan base that is beyond frustrated with the team's playoff drought.
Since Marian Hossa's contract with Chicago raised eyebrows and Ilya Kovalchuk's contract in New Jersey led to the team's forfeiture of a draft pick, there has been a much closer watch on such contracts. The deal Max Talbot signed with the Flyers has been questioned, but it would just require a very minor fix.
But as long as the deals are allowed, Burke has no reason to handicap himself and his team with his own stubbornness.
Photo: Getty Images
For more hockey news, rumors and analysis, follow @cbssportsnhl and @BrianStubitsNHL on Twitter.