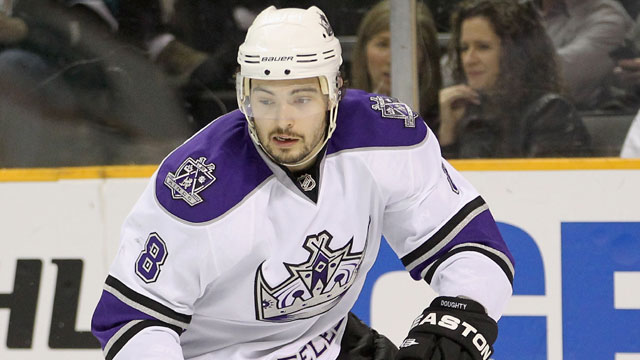 By Brian Stubits
It's almost like a bad Jerry Seinfeld joke: "And what is the deal with restricted free agency? They're free agents but no team feels free to sign them!"
Surely, Seinfeld could provide a better punch line, but you get the point. I'm starting to wonder why the NHL even bothers with offer sheets. Teams are apparently too afraid to use them, not wanting to violate what has become one of sports' infamous unwritten rules, joining not stealing bases with a big lead in baseball and not running up the score in football.
Now, there are multiple reasons for it. Yes, it seems to be generally frowned upon by GMs, a scorn that lingers and the threat of future relations being strained. That's the unwritten rule part. But there is also a tangible side, the angle of offers being futile. Teams always say they will match any offer sheet and keep their restricted free agent. Plus, there's the compensation. All legitimate drawbacks/hurdles. But enough to create a freeze?
Take this year's prime RFA Steven Stamkos as an example. Is there a more promising prospect in hockey? He's only 21 and he has the most goals scored in the NHL over the past two seasons. As of now, he's still unsigned by the Tampa Bay Lightning who insist they will keep Stamkos no matter the cost or offer sheet.
As far as we know, no team has submitted an offer sheet to Stamkos. Granted, we would only know if Stamkos signed a sheet or a team admitted to tendering an offer, but it doesn't appear as if there has been any movement on Stamkos. Only the Flyers seem to have even come close, having numerous internal debates before deciding to pass.
Or how about Kings defenseman Drew Doughty?

L.A. GM Dean Lombardi recently told the L.A. Times that the negotiations could "take a while." So if the sides are so far apart, why wouldn't some team take a shot? Doughty is as good a young d-man you will find across the NHL. At the age of 20 he had 16 goals and 43 assists. Last season he tallied 11 goals and 29 assists. Now who wouldn't want to try for that?
The idea of getting a superstar through restricted free agency is almost non-existent. No team will surrender a superstar when they have a rebuttal at their disposal. But if nothing else, you force another team's hand. Imagine throwing out an offer so steep that it will cripple the other team's financial status. The way I see it, anything that hurts my rivals helps me.
Since the summer of '05, only six offers have even been tendered. Only once did the controlling team not match. You might remember when Edmonton pried Dustin Penner away from the Ducks. It left then-Ducks GM Brian Burke irate, lambasting Oilers GM Kevin Lowe, saying "I have no problem with offer sheets. They're part of the CBA [Collective Bargaining Agreement]. But in my opinion, Edmonton has offered a mostly inflated salary for a player, and I think it's an act of desperation for a general manager who is fighting to keep his job."
"The bottom line is there are the tools at your disposal," former Flames GM Craig Button told NHL.com about restricted free agency. "You just have to understand the future ramifications."
Look, I understand the point of offer sheets. The league is interested in keeping young superstars with their teams at least for the early portion their careers. And, ya know, they don't have contracts with their teams any more.
I guess I'm just left wishing for more movement on RFAs. Think of the added intrigue. The Panthers trying to take Stamkos out of Tampa Bay? Suddenly you might have some actual teeth into the Sunshine State rivalry beyond a geographic connection. Or imagine the Ducks making a play on Doughty (just pretend) ... we could have Battle Los Angeles again, except this time it would actually be good.
There are legitimate points as to why restricted free agency exists. There are an equal number of points as to why teams don't tender offers. Eventually it leaves you feeling as if it is pointless. Funny.
Photo: Getty Images
For more hockey news, rumors and analysis, follow @cbssportsnhl and @BrianStubitsNHL on Twitter.