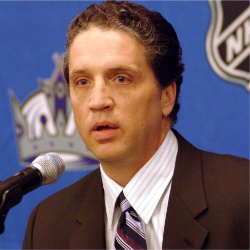 By: Adam Gretz
Earlier this summer the Edmonton
Oilers
re-acquired one of the most popular players in recent franchise history,
Ryan Smyth
, in a trade with the Los Angeles
Kings
. Smyth had requested a move out of Southern California to be closer to his home in Alberta. In return for Smyth, who left the Kings with somewhat limited options, the Oilers sent them forward
Colin Fraser
and a seventh-round draft pick, after Los Angeles general manager Dean Lombardi had previously rejected a deal involving
Gilbert Brule
due to injury concerns.
Fraser didn't exactly have a clean bill of health either, having fractured a foot last season while blocking a shot. According to Helene Elliot of the Los Angeles Times, Lombardi said he knew of the injury but was told by the Oilers staff that Fraser was just days away from being cleared for hockey activities. Once the trade was completed and the Kings doctors examined Fraser, they found a number of unexpected issues, including an unhealed fracture, a cyst and a blood disorder which could keep him out for up to four months. None of this, as you can imagine, amused Lombardi.
When combined with the injury concerns to Brule in the original deal, Lombardi was left with some sour feelings toward the Oilers front office
and said, via Elliot
:

"The bottom line for me, I would have rather invested my money with Bernie Madoff than invest in Edmonton's word."
The Oilers
will reportedly not publically respond to Lombardi's comment
.
This would be how relations between two teams turn sour.
In the aftermath of the trade, when the Kings initially voiced their concerns over the injury, Oilers general manager Steve Tambelinni stood by the deal and insisted that Los Angeles
knew Fraser's medical history prior to the trade
and that none of it should be a surprise. The Kings, naturally, disagreed with that assessment
and wanted to rework the trade
. That never happened and they are now exploring their legal options.
In the meantime, it would probably be a safe assumption to think these two teams won't be involved in any deals together in the near future -- at least not until this situation sorts itself out. Or, worst case scenario, when either team (or both) has a change in its front office and the two clubs can start their relationship over with a clean slate.
For more hockey news, rumors and analysis, follow @cbssportsnhl and @agretz on Twitter.