By Brian Stubits
So Miss USA is a hockey fan? That's great. Hockey will take all the fans it can get. And who doesn't want Miss USA on their side?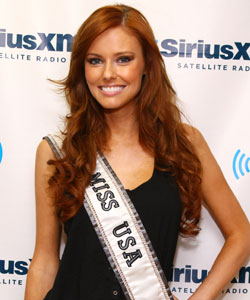 What's California native Alyssa Campanella's favorite team, you ask? The Vancouver Canucks.
Something just doesn't seem right. Miss USA's favorite team hailing from Canada? Feels like it's violating the laws of fandom/patriotism. Could you imagine the British prime minister pulling for Barcelona against Manchester United in the Champions League? Shouldn't Miss USA root for a team from, ya know, the USA?
Removing my tongue from my cheek, it's great to see another high-profile hockey fan joining the party. But how did she end up rooting for the Canucks, you ask? She explained that in an interview with FOXSportsWest.
FOXSportsWest.com: How did you discover hockey?

Miss USA: It happened this season when I was in Vancouver and went to see a Canucks game. I didn't know anything about hockey prior to that, and I went to a game and fell in love with the energy and the sportsmanship of the players. It was just insane, so ever since then I've been a diehard Vancouver Canucks fan.
Just so long as she doesn't pull for Team Canada, I guess it's OK.
Photo: Getty Images
For more hockey news, rumors and analysis, follow @cbssportsnhl and @BrianStubitsNHL on Twitter.