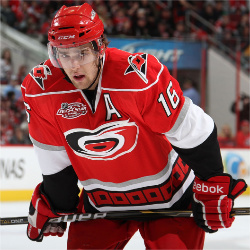 By: Adam Gretz
The Carolina
Hurricanes
agreed to terms with their only remaining restricted free agent on Wednesday (and in the process
reached the league-mandated salary floor -- hallelujah
!) by signing
Brandon Sutter
to a three-year, $6.2 million contract, which comes out to an average of just over $2 million per season. According to the team,
the deal will pay Sutter
$1.5 million this upcoming season, $2 million the following year and $2.7 million in 2013-14.
Sutter, who doesn't turn 23 until February, played all 82 games this past season, scoring 14 goals and adding 15 assists, both of which were a slight decrease from his 2009-10 performance.
Is that a concern for the Hurricanes? Not really, at least not according to general manager Jim Rutherford, who called Sutter a "cornerstone" of the organization. Said Rutherford in a statement released by the team, "Brandon is one of the cornerstones of our franchise moving forward. He is an extremely intelligent player who can perform in all situations, and has already grown into a leadership position for the Hurricanes at a very young age."
His offensive production may have seen a slight drop last year, but Sutter did find himself
with some tough assignments
while starting a lot of shifts
in his own zone
. Basically, he appeared to take on more of a defensive role. He played more shorthanded minutes than any other forward on the team, averaging nearly 2 1/2 minutes of shorthanded ice time per game. He was
27th among all forwards in the NHL
in terms of shorthanded ice-time.
That shorthanded usage was an increase from the previous year which also coincided with a drop in his power play time, going from an average of 1 minute, 55 seconds per game on the man advantage in 2009-10, to only 46 seconds per game in 2010-11 (his power play point total dropped from 10 to three). That shift in roles could help explain, at least in part, the decreased production from one season to the next.
Simply put, it's not all about the offense for Sutter, who, as Rutherford accurately pointed out, is becoming a solid all-around player for Carolina.
Photo: Getty Images
For more hockey news, rumors and analysis, follow @cbssportsnhl and @agretz on Twitter.