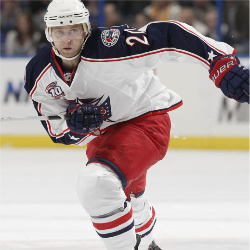 By: Adam Gretz
The Columbus
Blue Jackets
picked up what should be a huge upgrade to their offense earlier this summer by acquiring
Jeff Carter
from the Philadelphia
Flyers
. Unfortunately, due to some bad luck over the weekend, they lost another player that should have been one of their other top six forwards when
Kristian Huselius
tore a pectoral muscle while lifting weights in Sweden, according to Aaron Portzline of the
Columbus Dispatch
.
General manager Scott Howson said,
via Portzline's Puck Rakers blog
, that Huselius is expected to miss four to six months, which could keep him out of the Blue Jackets lineup until January.
Huselius is entering the final year of a four-year contract -- that pays him $4.75 million per year -- that he signed prior to the 2008-09 season. He was limited to just 39 games last season due to injury, scoring 14 goals.
Now that that Columbus has another hole on its top lines for a large chunk of the season, the search now turns to the remaining free agent market and anybody that could potentially step in. The options are not promising. Looking at
the forwards still available
, and ranking them by goals scored in 2010-11, the top 10 players are as follows: Teemu Selanne (31), Antti Miettinen (16), Alexei Kovalev (16), Nikolai Zherdev (16), Sergei Samsonov (13),
Rob Schremp
(13), Cory Stillman (12), John Madden (10),
J.P. Dumont
(10) and Brad Winchester (10). Yikes.
Selanne, even at age 41, can obviously still play at a high level as shown by his 31 goals last season, but he is not an option (Selanne is either playing for Anaheim or he's retiring). Madden doesn't really fit seeing as how he's a checking line center as opposed to a goal-scoring winger, and the Jackets have already been through the Nikolai Zherdev experience.
Stillman is a reliable veteran that has been on a pair of Stanley Cup winning teams, while players like Samsonov and Schremp might offer the faint hope of a boom-or-bust signing.
There's never a good time to lose one of your top offensive players -- especially when it's two weeks into the free agent signing period in what was already a weak group -- when all of the best players have already been picked over.
Photo: Getty Images
For more hockey news, rumors and analysis, follow @cbssportsnhl and @agretz on Twitter.