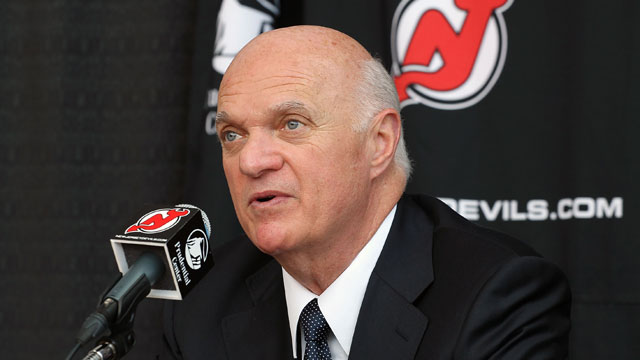 By Brian Stubits
What the devil is going on in New Jersey?
Here we are, more than three months after their season finished and the New Jersey Devils still haven't named a coach? General Manager Lou Lamoriello says a decision is coming. Some time soon, even.
"We will have a coach in the very near future, but not this week," Lamoriello said earlier this week.
Feels like that has been the standard response for a few weeks now. He is starting to sound like Chicago Cubs fans: Wait till next year.
The more time that passes, the more questions that are raised: Why is nobody taking what was not long ago a very good job? Why are the Devils going through coaches like kids through Halloween candy? Is Lamoriello tough to work under? Is there a dearth of desirable candidates? Is Lamoriello just being lazy? How many licks does it take to get to the tootsie roll center of a tootsie pop? (That's the only one I really know the answer to -- three.)
The list of names that have popped into the search at one point or another seems to be longer than Martin Brodeur's career. There have been retreads (two-time Devils coach Larry Robinson), coaching vets (Craig MacTavish, Ken Hitchcock), college coaches (Wisconsin's Mike Eaves) and everybody in between (hello, Guy Carbonneau and Michael Therrien). But naturally these names are just on a speculative list.
"I'm not going to get into discussions with reference to the coaching staff or anything of that nature," Lamoriello said. "There's [no coach] that has been named, so you can interpret it any way you want."
Then there's the ultimate retread: Jacques Lemaire. He has had three stints coaching the Devils, including the Stanley Cup champions in 1994-95 and last year's underachieving team that he made very competitive in his interim stretch.
Apparently his is one name you can safely cross off the list.
"I'm waiting for Lou to make his decision," Lemaire told Tom Gulitti of the Bergen Record. "I'm excited like the fans, I guess, to find out who it's going to be. It's not going to be me."
That has to be a bummer for Devils fans. Lemaire seems like he'd be a good stopgap for another season as he brought out the best in what was an awful Devils team. But it is probably for the good to move on to a new era. Preferably a long-term stay in Jersey, considering the Devils have had 12 coaches since Lemaire first left after the 1997-98 season (counting each visit for Robinson, Lemaire and Lamoriello's own stints separately).
So maybe it's worth it to take your sweet time to hire the right coach. It's just hard for me to imagine it takes this long to find said coach. All the other vacancies in the NHL have been filled and it's been that way for a while.
For more Devils news, click here.
Photo: Getty Images
For more hockey news, rumors and analysis, follow @cbssportsnhl and @BrianStubitsNHL on Twitter.