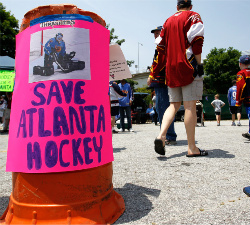 By: Adam Gretz
There are a number of reasons as to why hockey ultimately failed in Atlanta for a second time.
For one, the team was never a consistent contender, recording just two winning seasons in 11 years, with only one trip to the playoffs (and never winning a postseason game; they were swept in four games in their only appearance). Along with that, just about every star player the team ever had was eventually traded for one reason or another. It's difficult to build a following with a new fan base when the team never wins and struggles to keep its best players.
Those two issues can be traced back to a much larger issue that plagued the organization for much of its existence: ownership. And it doesn't seem to be getting any better even after the team is gone (and, honestly, why would it?).
According to a report from WSBTV in Atlanta over the weekend, some Thrashers fans were having a difficult time getting refunds on their season tickets, which naturally won't be good this upcoming season since the team now calls Winnipeg its home. Consumer reporter Jim Strickland spoke to one Thrashers fan, Brad Lyons, who was getting "the runaround" in attempting to get his refund.
From WSBTV
:
Strickland discovered gauging the scope of the problem was a hassle too."It's just been one excuse after another. Where's my money at? Where's my refund? It's been well over a month from the time it was guaranteed to be sent back to me," complained fan Brad Lyons. Strickland called Lyons' ticket representative. James Desmond refused comment and hung up the phone. Strickland called back several times and got voicemail from several team officials."I was told, others have had this problem," said Lyons. A second fan told Strickland that he's still waiting for $3,700. Lyons owed less than $200."I don't care. It's my money," he said. Strickland also discovered the team's former owners, Atlanta Spirit LLC, haven't posted an update on the Web for weeks.
The former Thrashers web site
links to an article on the Phillips Arena website
that informs ticket holders about the potential sale and relocation of the franchise (which has already happened) and that fans can get a complete refund if the Thrashers are not playing the upcoming season in Atlanta (and they're not).
Getting that refund was seemingly easier said than done, as Strickland demonstrated. Shortly after the interview with WSBTV, however, Lyons did receive a phone call from the Thrashers that his check would be available on Monday.
The very fact he had to reach out to the news media to get a refund for games that won't be taking place is more than a little absurd -- and quite a hassle -- and surely adds to the frustration that comes with losing your favorite sports team.
Photo: Getty Images
For more hockey news, rumors and analysis, follow @cbssportsnhl and @agretz on Twitter.