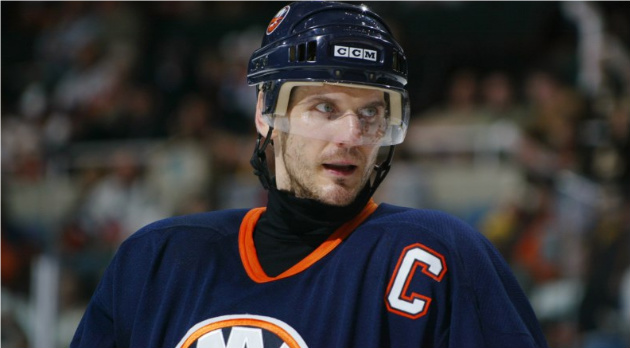 By: Adam Gretz
Alexei Yashin has spent the past four years playing professional hockey in Russia with Yaroslavl Lokomotiv and (most recently) St. Petersburg SKA. It was announced by SKA general manager, Alexei Kasatonov, that Yashin's contract will not be renewed by the club so it can "embark on the road to a younger squad,"
according to Sport-Express
.
The 37-year-old Yashin scored 15 goals in 52 games with SKA this past season, and added another goal and four assists in four postseason games.
The reports that his contract won't be renewed in Russia has, naturally, sparked discussion as to whether or not he could make an attempt to return to the NHL. James O'Brien at Pro Hockey Talk
outlined the positives and obvious red flags
that Yashin would present to a potential NHL roster, while Dmitry Chesnokov also passed along the word that Yashin's agent, Mark Gardner,
told Sovetsky Sport that he has already received an offer from one NHL team
.
He hasn't played a game in the NHL since the 2006-07 season with the New York
Islanders
when he registered 18 goals and 32 assists in 58 games. In the past, Yashin has
publicly stated a desire to return to the Islanders
.
The No. 2 overall pick in the 1992 entry draft, Yashin spent seven seasons with the Ottawa
Senators
, many of them tumultuous, before finally being traded to the Islanders prior to the 2001-02 season for a package that included future Norris Trophy winning defenseman
Zdeno Chara
, forward Bill Muckalt and the No. 2 overall pick in the 2001 draft, which Ottawa used to select
Jason Spezza
.
From there, Yashin signed what was one of the first contracts to reach 10 years in length in the NHL, agreeing to a 10-year deal worth more than $87 million.
Considering what the Islanders surrendered to Ottawa, the amount of money they invested in Yashin, and the return they received on that investment (his offensive production declined from where it was with the Senators) it turned out to be a terrible deal for the Islanders in hindsight, even though they did qualify for the postseason in three of his four years with the club (never advancing past the first round) -- something they hadn't done in the seven years before acquiring him.
The Islanders bought out his contract back in June of 2007, and he still counts for more than $2 million against their salary cap,
and will continue to do so through the 2014-15 season
.
Photo: Getty Images
For more hockey news, rumors and analysis, follow @cbssportsnhl and @agretz on Twitter.