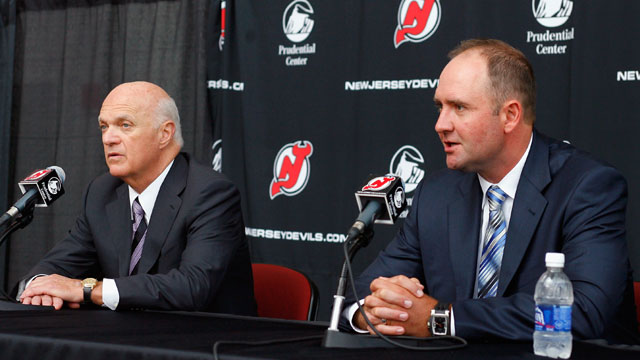 The New Jersey Devils have hired Peter DeBoer to be their new head coach. The team made the annoucement at a news conference on Tuesday.
It's been a long time coming in Jersey for the announcement as their search for a new coach began 14 weeks ago after Jacques Lemaire retired. He was the interim coach after John MacLean was fired after less than a season on the bench. Now it has a resolution.
"I'm very excited about the job, the opportunity, a chance to work in an organization with a reputation of winning and winning Stanley Cups," DeBoer said.
In the end DeBoer is Lou Lamoriello's choice after a plethora of names ranging from Michael Therrien to two-time Devils coach Larry Robinson and former player Adam Oates were in the discussion.
"Technically he's as sound as anyone out there," Lamoriello said.
DeBoer was fired at the end of last season by Florida after three seasons in which he failed to do what no other coach could do in Florida over the past decade, reach the playoffs. He reportedly turned down assistant positions with the Flames and Red Wings since being let go by the Panthers, apparently keen on getting another head spot despite his dismissal.
"While I'm not proud of the actual record," DeBoer said, "I'm proud of the way we played. I can tell you I'm a much better coach having gone through the learning experience down there [Florida]."
Before being hired by the Panthers, DeBoer was a very successful coach in the Ontario Hockey League, leading the Kitchener Rangers to the Memorial Cup in 2003.
He takes over a team that was handicapped by cap contraints last year and sagged to the worst record in the NHL before eventually recovering some under interim coach Jacques Lemaire. But don't expect him to bring much in a new philosophy or anything to New Jersey than what they have become accustomed to in the Lamoriello era.
"I think we [DeBoer and Lamoriello] have the same philosophies, which is that teams play the right way," DeBoer said. "My plan here is I want to keep the defensive structure that has made this organization so successful and also create some more offense."
Photo: Getty Images
For more hockey news, rumors and analysis, follow @cbssportsnhl and @BrianStubitsNHL on Twitter.