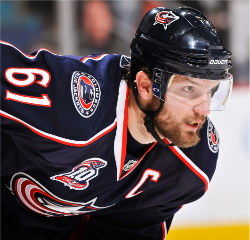 By Adam Gretz
Now that the Columbus
Blue Jackets
have acquired a No. 1 center, the discussion has shifted from whether they will ever find a player capable of matching
Rick Nash
's ability on their top line, to whether the player they acquired --
Jeff Carter
-- is the right fit.
The concern now is that Carter and Nash might be too similar to complement each other as they are nearly identical players. They both have roughly the same build; they both score a lot of goals; and both take a lot of shots. Over the past three years, they've been two of the top-five goal-scorers in the NHL, while both finished last season in the top six in shots on goal.
Assuming the two are paired on Columbus' top line, somebody is going to have to take on more of a playmaking role because, well, you have two guys that love to shoot and only one puck to go around. The expectation seems to be that Carter, the center, will be that player, and he's been asked about it since being officially introduced to the Columbus media this past week.
AJ Mazzolini
put together a story in the Columbus Dispatch on Thursday
talking about the expectations Carter will be facing, where he acknowledged passing will have to become a larger part of his game. But should it?
As the center it's easy to assume Carter will distribute the puck more, and while neither player has put up huge assist numbers throughout his career, I think Nash, based simply on personal observation, possesses more playmaking skills and could be a better set-up man on the wing.
Nash has taken on such a shooting role in Columbus for, I think, two main reasons: 1) because, obviously, he's an excellent sniper on the wing, but also 2) because he's been
forced
to take on such a role.
He's been forced to take on such a role because he's been the only consistent goal-scoring threat in Columbus over the past seven seasons. Since 2003-04, he's been the only Blue Jackets player to score at least 30 goals in a season, while only three others (
Antoine Vermette
in 2009-10,
R.J. Umberger
in 2008-09 and 2010-11, and Nikolay Zherdev in 2005-06) have managed to score more than 25 in a season. If he doesn't do it, nobody is doing it.
Not only does Columbus have another option, Nash has somebody else on his line that will also be capable of finishing plays. And Nash brings more to the table than just the ability to shoot. He has vision, he can create space for himself and his linemates, he works along the walls and he even has some touch to his passes. Take this play for example:
He's just needed somebody else to take advantage of all of it.
I don't expect Nash's game to change all that much, but I do think we'll see his performance go to another level. He's going to have a much better player on his line -- perhaps the best player he's ever played with in the NHL -- that is also capable of scoring goals and highlighting his playmaking ability that has gone relatively unnoticed the past seven years.
Photo: Getty Images
For more hockey news, rumors and analysis, follow @cbssportsnhl and @agretz on Twitter.