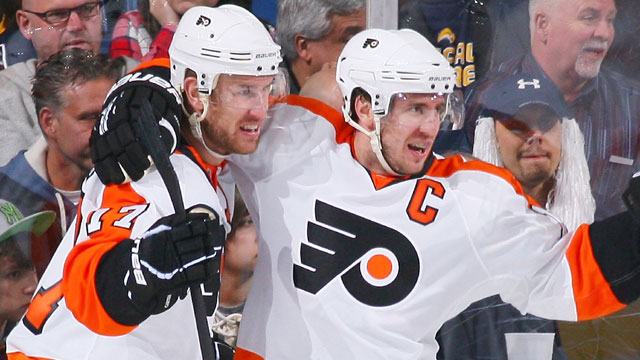 Maybe there is something to the idea that the Jeff Carter and Mike Richards trades out of Philadelphia were really about more than the hockey.
That's the inclination I have after seeing what Philadelphia Daily News' Dan Gross reported on Monday.
Two unnamed players said that the Flyers front office was disappointed in Carter and Richards' longstanding party lifestyle and that teammates were concerned about the pair's drinking.

Shortly after his arrival in December 2009, coach Peter Laviolette instituted what players came to call the "Dry Island." Laviolette asked team members to commit to not drinking for a month, and each player was asked to write his number on a locker room board as a pledge. No. 17 (Carter) and No. 18 (Richards) were absent from the board on the first Dry Island, as well as the estimated five more times the policy was instituted.

In a phone interview Thursday, Flyers General Manager Paul Holmgren confirmed that Richards and Carter hadn't put their numbers on the board, but said there had been others who declined. "We carry 23 players and there wasn't 23 numbers up there."
It's not as if this comes out of left field. There had long been plenty of talk about Carter (shipped to the Columbus Blue Jackets) and Richards (traded to the Los Angeles Kings) being fans of having fun. So for those who believed the scuttlebutt, this will add more fuel to their fire.
But Holmgren and Carter's agent say the partying is a moot point; the moves were all about the game.
Holmgren was "really upset that this is out there. That's our locker room. Our inner sanctum. Our board. Someone's crossing a line here," in discussing the Dry Island.

Holmgren also said it was "preposterous" that partying was factored into the decision to trade Richards and Carter. "As far as Mike and Jeff are concerned, we made two good hockey trades that will better suit us now and for the future. Columbus is happy, L.A. is happy and the Flyers are happy with the deal."

Carter's agent, Rick Curran, told us it was "bull----" to suggest that the two were traded because of their partying. "You're telling me a number of accusations [that] they are out partying and not focused on hockey. For someone to suggest that behind doors without having the balls to come out publicly, consider it for what it is," Curran told us.
This could be a situation where both are telling the truth. Perhaps the two former Flyers did have a penchant for partying and that could have had nothing to do with their exits. Anything is possible. But none of it is helping the perception of either player, especially in Richards' case as he did wear the C in Philly.
Personally, I thought Richards and Carter got bum raps on their way out of town, taking some parting shots about the organization not going any farther with them. Seems to me they did all right for themselves, reaching the Stanley Cup Finals with, to put it nicely, subpar goaltending on one occasion and helping the Flyers into annual contenders.
Photo: Getty Images
Hat tip to Puck Daddy

For more hockey news, rumors and analysis, follow @cbssportsnhl and @BrianStubitsNHL on Twitter.