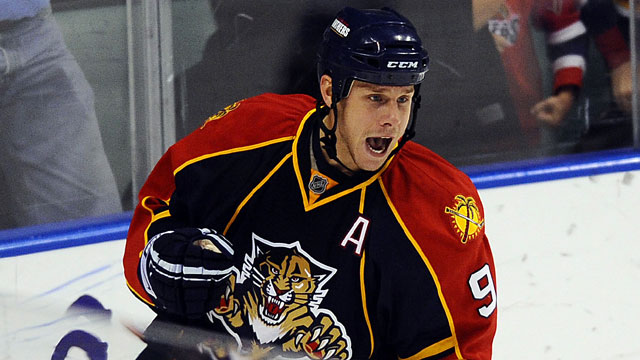 They sound like the buzzwords of a political campaign.
Change.
Hope.
New direction.
The blue print.
These have nothing to do with dysfunctional Florida politics. They are the words and phrases mentioned in the state about its moribound hockey team, the Florida Panthers.
There is nobody who knows about the team's optimisim and defeat better than the current longest-tenured Panther, Stephen Weiss. He has been there through it all, never leaving the organization after it made him its top selection in the 2001 NHL Entry Draft. After seeing unparralleled misery -- 10 straight years of missing the playoffs -- he says the vibe is starting to match the rhetoric.
"Personally I do [have a new-found excitement] just because I feel like I don't really know anybody any more," Weiss said. "So I'm kind of getting those butterflies as if I'm going to a new team, new scenario, new coaches again. That's always exciting."
Excitement that the Panthers are going the right direction? Imagine that. Buzz is what general manager Dale Tallon brought with him. It has been a long time coming in South Florida.
The Cats made the most noise on the first day of free agency. Florida went out and payed -- most say overpayed -- to completely overhaul their roster from just a few months before. The Panthers traded for veteran defenseman Brian Campbell and winger Kris Versteeg, then signed Ed Jovanovski, Scottie Upshall, Tomas Fleischmann, Marcel Goc, Sean Bergenheim, Jose Theodore and Tomas Kopecky. Ever since, people have criticized Tallon for overspending, but the Panthers had a cap floor to reach, so they had little choice but to spend money.
It's hard to argue, however, that after the first few days of July, Florida isn't a better team than it was before. If nothing else, the Panthers grabbed attention across the NHL.
"Around the league I hope it has given us a little bit more respect, that we're starting to turn the corner and starting to put some things together," Weiss said.
Even while the Panthers were trending in South Florida, on one of the biggest days in franchise history, Weiss wasn't keeping close tabs. He was instead vacationing at his uncle's cottage an hour north of Toronto, cell phone off. Later that night, he turned his phone on and saw the stream of text messages from friends, letting him know what Tallon had been up to.
"I'm certainly super excited to get that many guys and that many quality guys, it's unbelievable," Weiss said. "It's going to help us a lot. Totally changed our team around and made us younger and faster and more skilled. It's something that has needed to be done for a while and it's pretty neat that Dale's been able to do it. I can't wait to get to camp.
"That's just the start of it. Now, you have to back it up and put it on the ice. That's up to the guys and I'm sure we're all excited to do that."
Weiss has seen his fair share of new teammates and coaches in his camp days. That will once again be the situation this year as the team breaks in new coach Kevin Dineen to go along with the new faces. Dineen's task in his first NHL job will be to mold the players together and quickly find some cohesion. It is one which harkens back to the team's days at the old Miami Arena, also their most successful period in franchise history. That's when they had to start from scratch, literally building the franchise from nothing. With such turnover, it feels like they are doing the same again.
Bringing in so many new players in one offseason will present a challenge. But how big? Some say huge. It's one of the criticisms that has been levied against Tallon's spending spree. And it is not as if he is bringing a bunch of fresh faces into an established old guard. As far as Panthers holdovers go, the only veterans to speak of are Weiss and David Booth. Nobody else has been with the team for more than three seasons.
Sure, guys like Jovanovski have been in Florida before as the Panthers made him the first overall pick in 1994, but not with this cast of characters.
So will it be an issue? Weiss' inclination is no.
"There's always -- especially now with the way things are run -- there's a lot of turnover on teams year-to-year and that can be an issue with every single team, chemistry and things like that can be an issue with new guys," Weiss said. "I guess more so for us because we have so many, but at this level I don't think that's as big of a deal."
It better not be if this is going to be the group of guys to end the NHL's standard for futility.
Let's not forget that Tallon's blue print includes building the team through the draft. The Panthers did not have the richest farm system in hockey despite their years of picking in the lottery, but that has changed under Tallon's watch. Soon Florida will be looking to bring aboard recent draft picks Jacob Markstrom, Erik Gudbranson, Quinton Howden and Jonathan Huberdeau, among others. That's the new guard, the future of Panthers hockey.
And that's something Stephen Weiss can relate to. He, too, was once the future of the Panthers. Now he's the present, trying to get things turned around. Still.
"I never really envisioned thinking it would take this long to get things turned around here, but it is what it is," Weiss said. "It's really kind of bugging me deep down we haven't been able to put it together and get it done. Seeing the success [former teammates Nathan Horton, Gregory Campbell and Dennis Seidenberg] had in Boston just kind of fuels you even more to get it done."
The closest the Panthers have come to competing for the Stanley Cup in the past 10 years was 2008-09, when they finished tied with the Montreal Canadiens in points and wins for the eighth and final playoff spot in the East. Florida, however, went 1-2-1 in the season series and lost out on the second tiebreaker, left tantalizingly close, but yet so far.
Having never appeared in an NHL playoff game, Weiss does not know the feeling of reaching the postseason, but he is aware of what it would mean to him after so many years of watching from home.
"It would mean the world to me, really," Weiss said. "I wanted to honor the contract that I signed there and I want to make it happen there.
"I have some pretty high expectations for this team this year. I think deep down this could be our year."
Finally, Weiss and the Panthers are seeing a light at the end the darkest tunnel in team history.
Photo: US Presswire
For more hockey news, rumors and analysis, follow @cbssportsnhl and @BrianStubitsNHL on Twitter.