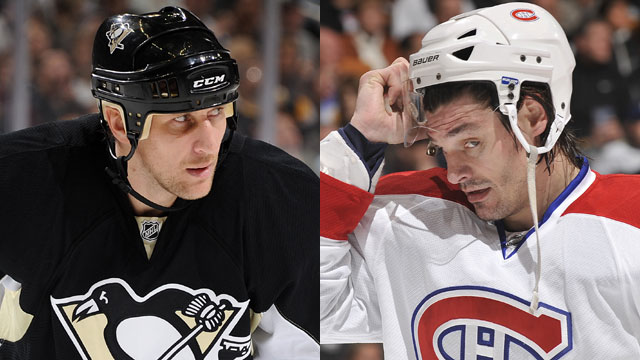 The NHL lost two free agents to the KHL on Friday as Brent Sopel and Alexei Kovalav are headed to the Russian league to continue their careers.
Sopel made the announcement himself on his Twitter account, saying "Two years in the KHL! So excited for this new opportunity!" More specifically, he inked the deal with Metallurg Novokuznetsk.
Sopel will be 35 next season and the defenseman hasn't put up more than 10 points in a season since 2007-08 with the Blackhawks. His best season came with the Canucks in 2003-04 when he scored 10 goals and had 32 assists. He split last season between the Thrashers and Canadiens.
He has seen his offensive numbers dip and his ice time has gone down, too, but it isn't as if he is a player that wouldn't interest any team at this point. Playing for the Thrashers last year he had a plus-7 in 59 games. Not bad considering the team he was on. Him going to the KHL is more a surprise than Kovalev.
Kovalev, meanwhile, will sign with Atlant Mytishchi according to Sport-Express.
Now 38, the Soviet Russian native played for the Senators and Penguins last season, scoring 17 goals with 19 assists. He has never had much of a problem scoring goals, tallying 428 over his career in the NHL that spanned 18 seasons.
For him it's a move you would expect. He's up there in age and gets a chance to finish out his playing career much closer to home, something that is becoming more and more common among the Russian veterans.
The moves, though, should put no fear in anybody that the KHL is creeping in on the free agents. The two leagues recently signed an agreement for signing players, but this appears to be a situation of veterans not finding interest from NHL squads.
Photo: Getty Images
For more hockey news, rumors and analysis, follow @cbssportsnhl and @BrianStubitsNHL on Twitter.