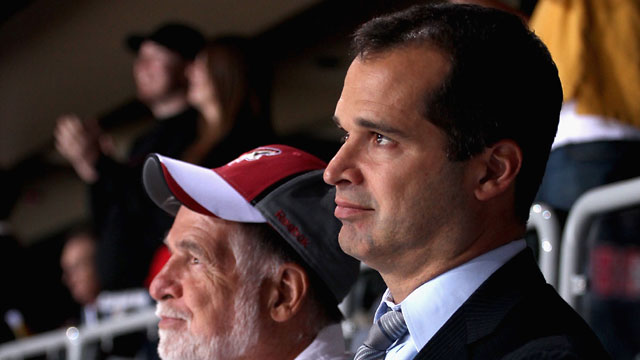 Last week the Dallas Stars took another step toward selling the franchise to a new owner and moving on to the next era. The St. Louis Blues are about to do the same. But they look like they will be down one prospective owner.
According to Andy Strickland at truehockey.com, current owner Dave Checketts has set a deadline of August 22 for interested buyers to put in their formal offers. One name who might not be among the list of entrants is Matt Hulsizer (pictured), the Chicago businessman who pursued the Coyotes for some time before throwing in the towel.
After he withdrew from the scene in Phoenix, Hulsizer said he maintained interest in owning an NHL franchise and the prevailing wisdom was that he would court the Blues. The problem, Strickland says, is the asking price might be too high for Hulsizer's taste, which is supposedly around the $200 million mark.
If Hulsizer is out on both the Blues and Coyotes (and not in the Stars equation), it will be interesting to see where he might show up again. The market is getting pretty thin.
Another name in the hunt is Tom Stillman, who is currently a minority owner of the team. He is trying to assemble a group to make a bid on the team themselves.
Much like the Stars, Checketts hopes to have the team sold by early October and the start of the season.
Photo: Getty Images
For more hockey news, rumors and analysis, follow @cbssportsnhl and @BrianStubitsNHL on Twitter.