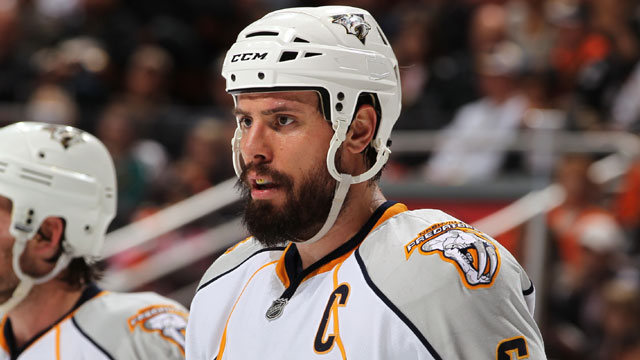 The ruling in the Shea Weber arbitration case has come down, and you can chalk it up as a win for Weber.
Per Tim Wharnsby of CBC Sports, the Norris Trophy nominee was awarded a $7.5 million deal through the arbitration process, a pretty substantial ruling in his favor. Entering the process, the numbers being floated around for the asking prices were $8.5 million for one season by Weber with the Predators holding an offer of $4.75 million.
With the massive number going to Weber, he takes home the biggest award ever given in arbitration.
It's pretty easy to see why. Weber has established himself as one of the elite defensemen in hockey. After scoring 16 goals with 32 assists last season while racking up more than 25 minutes of ice time per game and Norris nomination, he was due for a nice raise from his $4.5 million salary. How the Predators were going to argue Weber didn't deserve more than they were offering was a tough case to make. It must have been hard for the team to keep a straight face when trying to discredit Weber.
Obviously they came into the negotiations low as a starting point, but can't imagine they wanted to go this high. Whatever they said didn't seem to convince the arbiter much. Now, according to CapGeek.com, Weber becomes only the second defenseman in the NHL with a cap hit of more than $7 million, joining just Brian Campbell in that department.
The $7.5 million makes him the highest salary cap hit among defensemen in the NHL and it matches the hits of Steven Stamkos, Dany Heatley and Marian Gaborik for the seventh highest in the league.
But hey, the big award does sneak the Predators over the salary cap floor. So there's some good news for the team.
Not many ever thought the case would make it this far, figuring a last-minute deal would be struck like we saw in every other arbitration case this offseason. Especially when you consider how important locking up Weber is for the long-term outlook of the Predators, it seemed like only a matter of time before a long extension was announced.
Instead, you are left to wonder if this isn't the beginning of the end for the Predators/Weber union. There will be plenty of time to try and come to terms with Weber between now and next year, but arbitration has been known to cause fractures in relationships in the past. Fans in Nashville will be keeping their fingers crossed that isn't going to happen here.
As a result of this, you can probably hear Drew Doughty in Los Angeles jumping for joy. The Kings had been waiting to make their next move in the negotiations with their young defenseman, presumably to see what kind of money Weber would be taking. Not that the two will have concurrent deals, but it helps give the Kings an idea of the market value.
The fun part? The two might have to go through this all over again next season as Weber will have one more go around as a restricted free agent.
Photo: Getty Images
For more hockey news, rumors and analysis, follow @cbssportsnhl and @BrianStubitsNHL on Twitter.