NOT OSGOOD ENOUGH: The debate will go on as long as we don't have anything more meaningful to discuss. (OK, that's a lie, we've had much more meaningful things, but we digress.) Is Chris Osgood worthy of a place in the Hall of Fame? Here's a submission from a Red Wings fan arguing why Osgood should NOT be inducted. I always like seeing a fan trying his/her best to be impartial and arguing against their team. In this case, Osgood is truly as close to a tossup as you will find and you can make the argument either way.
ISLES THIRD JERSEY?: The blog over at Puck Daddy got wind yesterday of a possible third jersey for next season for the New York Islanders. As you might have noticed, alternates have become all the rage, a nice way for teams to sell additional jerseys. The sweater features a lot of black with blue and orange piping. The team later said that the mockup was one of the versions being considered but no final decision was made. I am clearly in the minority based on the onslaught of bad reactions the team received for it, but I don't mind them.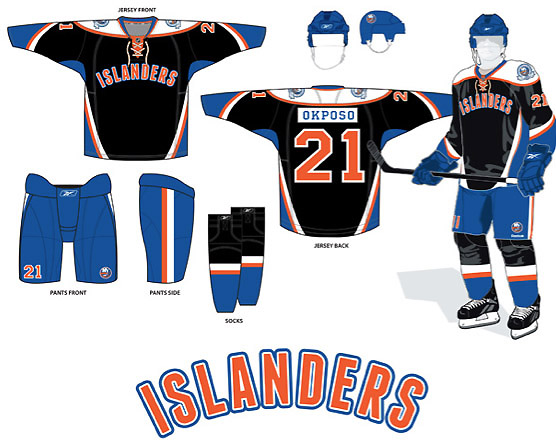 BOLTS PROSPECT HURT: Perhaps the Lightning's top prospect, Brett Connolly was hurt in a game on Thursday, having to be helped off the ice according to TSN's Ryan Rishaug, who says that it looked like a leg injury, and not a very good one.
OVIE DITCHES CCM: Capitals star Alexander Ovechkin made an off-ice move this week, changing his apparel company from CCM to Bauer. Too bad, I guess it means the end of the crazy Ovechkin commercials that CCM was running like this one.
For more hockey news, rumors and analysis, follow @cbssportsnhl and @BrianStubitsNHL on Twitter.