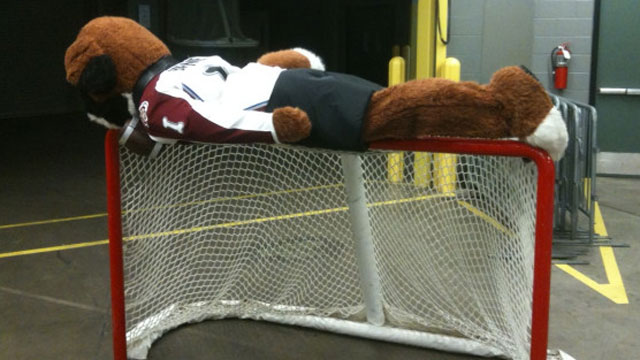 The art of planking has come to hockey.
In case you don't know, planking is somewhat of a Twitter sensation where people lie prone on an object, the wackier the better, and a picture is snapped to prove it. It has been particularly popular in the NBA, where the best example of planking I have seen came from the Washington Wizards' JaVale McGee in a freezer.
I figured it would only be a matter of time before the silly sensation came to the NHL.
Colorado Avalanche mascot Bernie was recently shot planking on top of a cage somewhere in the bowels of an arena.
This is the first I've seen in hockey (although I'm sure there have been others) and it's a nice, if not predictable start. But this can be topped. Some other prospects would be lying on the railing of the bench or better yet on the top of the zamboni, preferrably while smoothing the ice.
Turns out Bernie had another shot up his sleeve, posing on an escalator in the arena. I'd be really impressed if the escalator were operating.
Photo: @Avalanche twit pic
For more hockey news, rumors and analysis, follow @cbssportsnhl and @BrianStubitsNHL on Twitter.