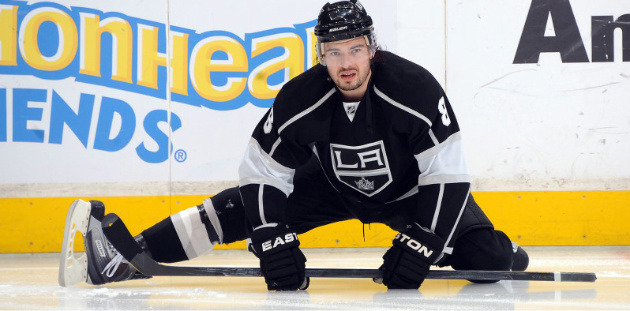 By: Adam Gretz
The Los Angeles
Kings
and their young standout defenseman,
Drew Doughty
, have yet to reach an agreement on a new contract. Doughty, 21, is currently a restricted free agent, and because NHL teams are seemingly terrified of restricted free agents, there's almost no danger of him entertaining an offer sheet from another club. So it's not a matter of
if
the two sides come to an agreement, but simply a matter of
when
.
We're already into August, and with no new contract on the horizon it has to be getting at least a little frustrating for Kings fans to see their young franchise player remain unsigned. Especially now that there's some minor -- very minor -- rumblings of a possible holdout.
Deep in a profile about Jack Ferreira, the Kings special assistant to to the general manager, that appears in the
Press-Enterprise
is a quote from the long-time executive that brings up his previous experiences with Paul Kariya during his holdout with the Anaheim
Ducks
back in 1997, and how it relates to the current stalemate between the Kings and Dougty.
From Jim Alexander of the P-E
:
And this is part of what veteran hockey men bring to the table: There is little that can happen that they haven't already seen. Today's Kings are still at a negotiating stalemate with defenseman Drew Doughty , a restricted free agent. That situation got no easier Wednesday when an arbitrator awarded Nashville's Shea Weber, a more experienced defenseman, $7.5 million for one year. "This year we were up in Toronto for the scouting combine and Dean had some meetings with Newport Sports (Doughty's agents)," Ferreira said. "He came back and they were discussing what went on, and I just looked at him and said, 'Dean, they don't want to make a deal. They're not ready to make a deal.' "That's gonna be a tough one. I would not be surprised if he was a holdout. I went through it with Paul Kariya, and Dean's been through it."
At this point we're still a long way from a holdout, as training camps are still over a month away, and the start of the regular season is still a month after that. No matter how far apart the gap may be right now, it can only take one phone call to change that and get the two sides on the path toward a deal. It's also worth pointing out that story -- Ferreira suggesting a holdout -- occurred during the NHL scouting combine -- which was over two months ago -- so it's also possible that something has changed since then.
Still, it's an intriguing quote and floats a possibility that hadn't really been discussed all that much. And it is more likely to happen than another team stepping up and throwing a huge offer sheet on the table, so it's probably the only way Doughty doesn't open the season in the starting lineup for the Kings, and even then it's a stretch.
Naturally, this week's arbitration ruling for Nashville's Shea Weber -- $7.5 million -- has sparked discussion as to what it means for Doughty and the Kings, and frankly, it shouldn't mean all that much. Weber is a better player and has been in the league for six years, compared to Doughty who is coming off just his third NHL season (and a season that saw his offensive numbers, which tend to be a big deal for a puck-moving defenseman, decrease from the previous year).
Earlier this summer Phoenix's
Keith Yandle
, who just completed his fourth full season in the NHL, signed a five-year deal
worth over $5 million per season
. Prior to last season
Rangers
defenseman
Marc Staal
signed a five-year deal coming off of his entry level contract that
pays him $3.97 million per season
.
It stands to reason that Doughty's inevitable contract will fall somewhere between the annual cap hit for Yandle and the one-year award that Weber received in arbitration. In other words: somewhere in the $6 million neighborhood seems fair. It's going to get done, it's just a matter of when.
H/T Surly & Scribe, via Puck Daddy

Photo: Getty Images

For more hockey news, rumors and analysis, follow @cbssportsnhl and @agretz on Twitter.