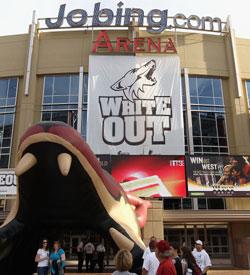 It's the neverending franchise-selling story. The Phoenix Coyotes still have a desert future hanging in the balance and after Matthew Hulsizer dropped his bid to buy the team, that future looked bleak.
But there might be a beacon of hope again. Make that two beacons.
Mike Nealy, Coyotes COO, said that the team continues to hear from two potential buyers, according to Arizona Republic reporter Lisa Halverstadt. Who those suitors are is not known. They have asked to remain anonymous as negotiations go on. Halverstadt says both names are known in the sports world, however. (Jerry Reinsdorf still around, perhaps?)
Expect news to pick up when Glendale City Council members return from their summer recess. The stated goal by the council is to have everything wrapped up come fall. At this point, with how long the search has been going and all the hurdles that have been placed as obstacles, that seems a bit on the optimistic side. Just a touch
Stay tuned. I'm sure in a couple months there will be three potential buyers, none of which are currently in the mix.
Photo: Getty Images
For more hockey news, rumors and analysis, follow @EyeOnHockey and @BrianStubitsNHL on Twitter.