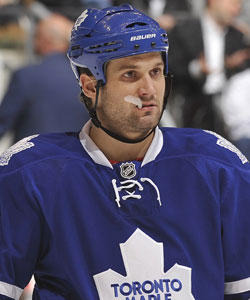 The Nashville Predators won't be stuck with Brett Lebda and his contract for next season after all.
The Predators bought out the final year of the defenseman's contract, according to Josh Cooper of the Tennesseean. Lebda was going to make $1.4 million next season, the completion of the two-year, $2.9 million deal he inked with the Maple Leafs.
Lebda was acquired by the Predators in a trade that sent Cody Franson and Matthew Lombardi to Toronto, a trade so one-sided that it was immediately clear what Nashville was up to. The writing had been on the wall that it was a salary dump situation and that Lebda wasn't really wanted. He was placed on waivers and cleared, leaving Nashville with two options: keeping him in the organization or buying him out.
Now he's a free agent, looking for a team. Considering he got through waivers -- and the fact that he was genuinely bad last season for the Leafs -- it might be hard for him to find a new gig. But he is still on the right side of 30 (for another few months, at least) so he could intrigue some team at a much lower contract level.
It's no coincidence Lebda enjoyed his best seasons early in his career with the Red Wings when he played with Chris Chelios. But his numbers have gone down, to the point where he played only 41 games last season with the Leafs, posting a minus-14. Rough.
It will be interesting to see if he'll get another chance in the NHL to wipe away the stench of his Toronto tenure.
Photo: Getty Images
For more hockey news, rumors and analysis, follow @EyeOnHockey and @BrianStubitsNHL on Twitter.