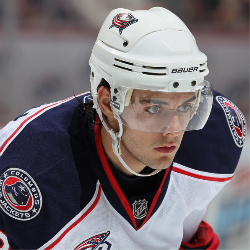 By: Adam Gretz
When the Ottawa
Senators
traded for
Nikita Filatov
earlier this summer it was a nice gamble by an offensively starved team. They were buying low on a gifted young player that's yet to find his role in the NHL. For a rebuilding team, that's not really a surprising move. Actually, it's the type of move a rebuilding team should always be looking to make.
What did turn out to be a surprise was the word from Dmitry Chesnokov on Wednesday
that Filatov claims he was promised (that's the key word) top-six ice-time
, as well as power play time, for the Senators this upcoming season by general manager Bryan Murray. Assuming that's how it went down between Filatov and Murray, that seems, on the surface anyway, to be a bit extreme for a player that has managed to score just six goals In 44 career games, and hasn't put one in the net at the NHL level since Nov. 7, 2009.
Four of his six career goals came during his eight-game debut during the 2008-09 season, with only two coming over the following 36 games. Over the past three years he's also spent time in Russia and the AHL, where he scored nine goals in 36 games with the Springfield Falcons this past season.
Once you dig a little deeper, I don't think it's as crazy as it initially sounds for two reasons.
First, Filatov is probably one of the last players you want skating on your third or fourth lines, whether you're a rebuilding team or a stanley cup contender, because he's simply not that type of player, defensively or physically. If he's going to play in the NHL and become a useful player, it's going to be as a first or second line player.
The other reason: the Senators should be absolutely desperate for anything that resembles offense or the potential to create offense. While Filatov hasn't exactly shown he can be a consistent scoring threat at the highest level of competition, he at least possesses the type of skill and talent that could eventually lead to him becoming that sort of player. The type of player he was supposed to become after the Columbus
Blue Jackets
selected him with the 6th overall pick in 2008.
The Senators were 29th in the NHL in goals scored last season with just 192, finishing ahead of only the New Jersey
Devils
. Only one player on the roster,
Jason Spezza
, managed to score more than 20 goals, while
Milan Michalek
was the only other player to score at least 15. This team needs
somebody
that can score.
The return of a healthy
Daniel Alfredsson
should help (he appeared in just 54 games last season due to a back injury) but there's not much else coming in as far as potential difference-makers. Filatov may be a huge disappointment to this point in his career, but he's still only 21 years old and doesn't turn 22 until May, and at least has the potential to make some sort of an impact. For a team like the Senators it's definitely a gamble worth taking.
They're probably not going to compete for a playoff spot anyway, and if he can find a way to blossom in Ottawa the way he never did in Columbus they get a useful player for almost nothing. And if continues to play like the Nikita Filatov that played his way out of Columbus? Well, it only cost you a third-round pick to take the chance, and there's nothing forcing you to keep playing him in the lineup or keep him on the NHL roster.
Photo: Getty ImagesFor more hockey news, rumors and analysis, follow @EyeOnHockey and @agretz on Twitter.