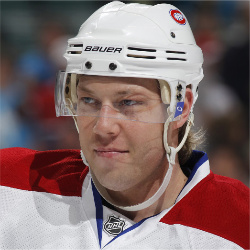 By: Adam Gretz
Andrei Kostitsyn
has never been a model of consistency in the NHL, but he did manage to score 20 goals in 81 games for the Montreal
Canadiens
last season, good enough for the third best total on the club, trailing only
Brian Gionta
and
Tomas Plekanec
. Not a great season, but definitely not a poor one as a 20-goal effort in the NHL is nothing to look down on.
Still, the 25-year-old Kostitsyn appears to be unhappy with his head coach, Jacques Martin, and recently sounded off on his role with the team that drafted him in the first-round (10th overall) back in 2003.
In
an interview with Goals By
, a publication out of Belarus, Kostitsyn
said his relationship with Martin
is "not too good," and added "It wasn't me who started to play badly, it's just that I was being put into (the) third and fourth line. I've tried talking to (Jacques Martin) more than once. But he doesn't care."
Of course, Kostitsyn spent a great deal of time this past season
playing on Montreal's top lines
, skating alongside
Mike Cammalleri
and Tomas Plekanec, as well as Brian Gionta. All three of those guys were among Montreal's top-scorers and offensive threats last season, and not exactly chopped liver when it comes to talented linemates. Granted, he did see time with bottom-six players like
Travis Moen
and
Lars Eller
, but the majority of his time was spent with top-line talent and with top-line even strength minutes.
Kostitsyn's younger brother, Sergei, was also a member of the Canadiens organization for a number of years, and also had his share of problems with Martin. He was ultimately traded to Nashville last offseason where he went on to to lead the
Predators
with 23 goals in 2010-11, his best season to date in the NHL.
It should be interesting to see how the Canadiens organization decides to deal with the oldest Kostitsyn brothers given his apparent problems with the teams coach.
Photo: Getty ImagesFor more hockey news, rumors and analysis, follow @EyeOnHockey and @agretz on Twitter.