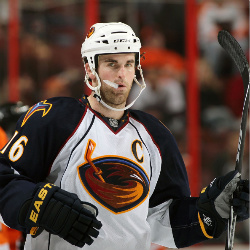 By: Adam Gretz
Even before the Atlanta Thrashers relocated to Winnipeg this summer, there were rumblings that some players around the NHL might avoid joining the
Jets
-- or be unhappy about doing so -- because they wouldn't want to call Southern Manitoba their home. Former
Coyotes
and current
Flyers
goalie Iyla Bryzgalov infamously stated his desire to avoid Winnipeg -- and this was when the Coyotes were the top target for relocation --
because it didn't have enough parks
(of all things!), among other concerns.
Recently, Bob McCown, a radio host in Toronto, said that he had first-hand knowledge that as many as three current Jets -- and as of now they are unnamed Jets, of course -- would like to get out of Winnipeg before even playing a game.
Andrew Ladd
, who was named captain of the Thrashers last season, shared his thoughts on the anonymous Jets -- assuming they exist -- with Gary Lawless of the Winnipeg Free Press.
Here's Ladd's comments, via Lawless
:
"I haven't heard that, but if there are guys that don't want to be in Winnipeg then we don't want them anyway," said Ladd. "We want people that want to be part of a good hockey organization that's going to create a winning culture. From everyone I've talked to -- I haven't heard any of that."
The message from Ladd is pretty clear: If you don't want to be here, get the hell out. Ladd signed a contract earlier this summer that will keep him in Winnipeg for
the next five years and pay him a total of $22 million
.
Now, whether or not there are players that want out -- or will actively avoid signing with Winnipeg, or veto trades to Winnipeg if they have that power in their contract -- is certainly up for some level of debate, and, hell, is probably very likely to happen at some point. One of the reasons players try to get no-trade or no-movement clauses in their contracts is so they not only have control -- and the comfort level of knowing -- where they're going to be living and playing for a certain among of time, but also so they have ability to avoid going to a place they don't want to be for whatever reason.
And that reason could be competitive, financial or simply because they don't like the area. And while this could be true of any player with any market, it could be a bigger issue for a smaller city like Winnipeg with a team that hasn't had a recent track record of playing winning hockey.
Keep in mind, the Jets organization (which was previously the Thrashers) has appeared in one playoff series in its existence and never won a postseason game. That, combined with Winnipeg's brutal climate (and if you're
Ilya Bryzgalov
, it's lack of parks) could be an ugly combination. The Edmonton
Oilers
, for example, have had some issues in recent seasons, getting turned down by players --
Dany Heatley
comes to mind after using his no-trade clause to reject a trade there a couple of years ago, after
demanding
a trade out of Ottawa -- and has
found itself near the top of the polls for least desirable places to play
.
(H/T Houses of the Hockey
)
Photo: Getty ImagesFor more hockey news, rumors and analysis, follow @EyeOnHockey and @agretz on Twitter.