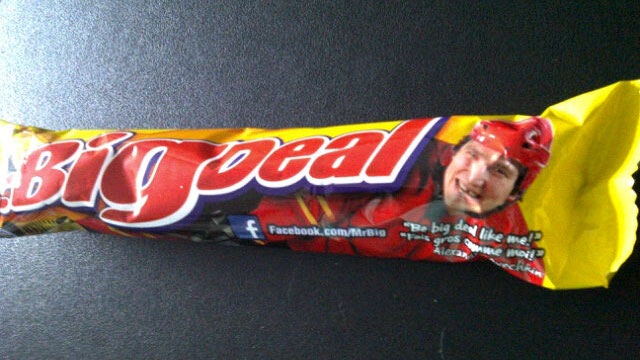 I'M KIND OF A BIG DEAL: Alexander Ovechkin is always endorsing something. He and Sidney Crosby are undoubtedly the NHL's endorsement Kings. The latest for Ovie? His face being plastered (alexovetjkin.blogspot.com) on the Canadian candy bar Mr. Big Deal. Underneath a smiling Alex is the slogan "Be a big deal like me."
REPLAY REVIEW: The Islanders' plan to have a viewing party to re-watch the game against the Penguins that erupted into the Royal Rumble has drawn a lot of attention across the hockey world. Apparently it caught the NHL's eyes, too. Kevin Allen at USA Today writes that the NHL is "looking into" the promotion, with deputy commissioner Bill Daly saying "We do not approve of the use, based on what we know."
R.I.P. RIPPER: The tragic news came down late Monday that Winnipeg Jets enforcer Rick Rypien was found dead in his home. There is still a lot more to come out on that story. In the meantime, remembrances are pouring in all over Twitter of the player affectionately called the Ripper. Here's an example from Mike Commodore: "RIP Rick Rypien. He was a warrior. Hit me so hard my eyes couldn't focus for 30 secs. Not sure if it was a left or right. #hitmewithboth" USA Today offered up a photo gallery of Rypien's career.
PENS IN DEMAND: The Penguins continue to sell tickets like hot cakes. The team announced this morning that they are again capping the season-ticket sales at 15,000 for the season. That just continues the run in Pittsburgh where the Pens have sold out the last 210 games, which includes every game for the last four seasons.
SMAHSVILLE CELEB SHOW: The game isn't the only attraction in Nashville when you talk Predators hockey. The games are a hotspot for celebrities, too, mostly from the country music world. Nashville is, after all, the home of country. So in further embracing the city's country music roots and promoting the team, the Preds put together (Section 303) a bit of a montage of the scene at games in Nashville.
For more hockey news, rumors and analysis, follow @EyeOnHockey and @BrianStubitsNHL on Twitter.