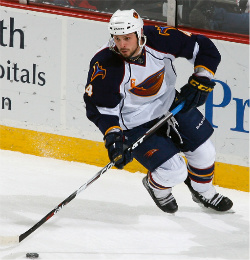 By: Adam Gretz
On Monday we looked at the possibility of players potentially wanting out of (and avoiding) Winnipeg, and how captain
Andrew Ladd
would prefer to not have anybody on his team that doesn't want to be there. Of course, there a lot of reasons as to why a player would want to avoid a particular team or situation, including playing time.
Sportsnet's Mike Brophy
put together an article this week that examines three teams
(Toronto, Los Angeles and Winnipeg) that are playing hardball with their young restricted free agent defenseman (
Luke Schenn
,
Drew Doughty
and
Zach Bogosian
, all of whom were selected at the top of the 2008 NHL draft). Regarding Bogosian, Brophy cites a source in Atlanta (where Bogosian played the first three years of his career) that suggests the 21-year-old puck-moving defenseman struggled offensively in 2010-11 because he was replaced on the power play by
Dustin Byfuglien
and
Tobias Enstrom
. With those two likely to man the top unit going forward, Brophy suggests that lack of power play time (which could also cut into his point production) may impact Bogosian's desire to sign a long-term deal with the
Jets
.
That is certainly understandable and believable, but there is one problem with it: Bogosian's power play usage didn't really change much in 2010-11. In fact, he saw
more
power play time per game in 2010-11 than he did in his first two seasons in the NHL.
His production dropped, but his ice-time didn't.
Zach Bogosian Power Play Usage
Year
Games
Total Power Play Time
Power Play Time/Game
Power Play Points
2008-09
47
52:30
1:07
5
2009-10
81
134:23
1:39
6
2010-11
71
140:43
1:58
4
Was he playing as part of the top power play unit? Not always, as some of that was time on the Thrashers' second power play unit (his most common power play partner on the blue line was
Johnny Oduya
, but he also saw plenty of time with both Enstrom and Byfuglien). Still, it's not like he was playing top power play minutes (or putting up huge power play numbers) in 2008 and 2009. Even before the addition of Byfuglien his power play time was third on the team among defenseman in 2009-10, trailing Enstrom and veteran
Pavel Kubina
.
Bogosian is a gifted player and is still extremely young at a position that can take some time to develop, but his decline in offense in 2010-11 seems to have had more to do with a down year than losing out on power play time to Byfuglien and Enstrom.
Photo: Getty ImagesFor more hockey news, rumors and analysis, follow @EyeOnHockey and @agretz on Twitter.